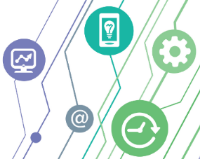 New entrants to the insurance market have seized prime consumer real estate, and it hasn't happened by chance. Capitalizing on innate technological or retail prowess, rising players in the distribution space are riding the wave of consumer demand right to carriers' doorsteps. And they are delivering digital options that are shaping the future of the industry. The question now is whether established carriers are positioned to regain market mind-share or risk losing more to new entrants.
Positioning for Digital Change
There is no debating it. Digital distribution is here to stay, so insurance carriers must decide whether to rise to the challenge and extend a history of industry leadership or pass the reigns to the new players shaking up the market. Currently, nearly half of insurers lack a digital strategy,[i] struggling to integrate vast stores of existing data and legacy systems into digital capabilities. Current business strategies and operating models are not flexible enough nor do they provide room for future digital growth. A true digital distribution strategy is not a one-time IT implementation, but a significant change management initiative, necessary to meet evolving consumer demands while positioning the organization for the future. As carriers set their teeth to take a larger, digital bite out of the market, their distribution strategies should address four critical areas to achieve competitive advantage:
The right channel mix: From first touch through the last, carriers need the right channel mix to support the type of interactions that customers want now. This includes integrating current traditional means of connecting with new digital options.
One-stop shopping: As consumers grow accustomed to the ease and convenience of the digital retail experience, more are expecting one-stop shopping from the vendors they frequent. The same will be true of the insurance industry, and insurers with the capability to fulfill all of the consumer's coverage needs will own the market.
Targeted insights: Carriers that are able to draw insights from their digital channels on customer needs, including the products and services they want and how they prefer to purchase them, are more future-driven, able to develop improvements that generate loyalty.
Future adaptability: The digital ID of a customer is composed of more than demographical statistics. It starts with what they purchase and the channels they use, but expands as the number and types of interactions increase and expectations change. The ability to utilize the information gained across the digital spectrum to anticipate how consumers will want to do business in the future is crucial to developing a strategy capable of adapting to future demands and new products or services.
Today's consumer is looking for the quick and easy. Insurers that can accommodate the complete range of consumer needs will increase market share, revenue, customer retention and can also shave up to 40% off carrier costs by automating key processes through digitization.[ii]
Integrating Digital with the Personal Touch

Recent research indicates that 79% of consumers would like to complete insurance transactions online,[iii] but this doesn't mean that
the personal touch is obsolete. Consumers still want the option of communicating through agents, but on their terms, through the channel of their choice. Current carrier agent models put incumbent insurers at a distinct advantage over the new digital masters by providing personal touch options, but compound the issue of developing a digital distribution strategy.
Accounting for the personal touch requires a platform that supports agent and call center functions, enabling them with direct-to-consumer tools and allowing them to use carrier capabilities to efficiently quote, bind and issue policies with omni-channel interaction capacity. At the end of the day, don't leave agents out of the equation. Empower them.
Blending a Future-driven Distribution Model
There is only one way for established carriers to continue to own the market they have dominated for years, and that is by blending traditional expertise and digital distribution capabilities into multi-channel competence. Capable of meeting the consumer demands of today and tomorrow, this future-driven strategy provides multiple options for interaction, delivers the products and services that enhance life quality and supports the customer throughout their journey. It even blends traditional and new channels, supporting carriers and agents with top of the line digital capabilities and direct-to-consumer functionality. Taking back the market might not be as hard as it seems, but the time to make the move is now.
---
[i] Pinkney, Dan. "Nearly Half of Insurers Worldwide Say they Lack an Achievable Plan to Carry out a Successful Digital
Transformation." Weblog post. www.bain.com. Bain, 15 July 2015. Web.
[ii] The Making of a Digital Insurer. McKinsey & Company, 2015. file:///C:/Users/user/Downloads/Making_of_a_digital_insurer_2015%20(1).pdf
[iii] Global Digital Insurance Benchmarking Report 2015. Bain and Company, 2015. http://www.bain.com/Images/GLOBAL-DIGITAL-INSURANCE-2015.pdf