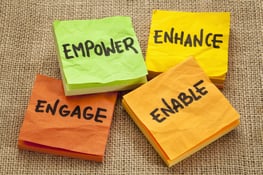 The insurance industry is well known for its steady pace in the face of change, so it's no surprise that many insurers with strong exclusive agent networks have distanced themselves from the digital game. Now, as new entrants armed with novel tools and products target the carrier's loyal customer base, it's time to equip agents with the tools they need to engage the nearly 80% of customers who want the option to interact through digital channels.1 It's becoming clear that omni-channel capabilities are not a nice-to-have or a someday proposition. They are a critical component of any insurer's success today.
Customers Want Digital and an Agent
The reason for developing digital capabilities is simple. It's what the customer wants and at this point, technology advancements adopted in other industries have spurred a customer revolution, prompting new consumer demands across the insurance industry:
74% of consumers, from millennials through the late baby boom generation, want the ability to research insurance options and obtain quotes online.2
79% of consumers said they want the ability to interact with insurers via digital channels.3
91% of consumers expect the ability to start a transaction in one channel and complete it in another.4
Reading statistics like these should convince any carrier that digital channels are here to stay, but another simple fact repeated across customer surveys indicates that 50% of consumers still value human interactions when seeking advice,5 reinforcing the knowledge that agents continue to be an important part of the insurance ecosystem.
Carriers that develop strong digital capabilities don't need to leave agents behind. With the right digital distribution platform, they empower them, integrating digital and traditional channels in a way that meets the complete needs of the consumer and creates a seamless customer experience.
Empowering Agents with Digital Distribution
When looking to purchase new coverage or extend existing policies, customers are seeking a one-stop shopping experience, including a smart yet simple application process that is available through their channel of choice. This is where digital capabilities empower agents, integrating channel options to give them the tools necessary to engage more customers, with more efficiency, more of the time. With the right digital distribution platform, agents easily connect to internal systems, enabling cross-channel interactions. The advantage is that customers can start a process online and easily finish with an agent.
From the very first keystroke, customer information is readily accessible through the platform, allowing agents to continue interactions without having to request information again. Then, to seal the deal, auto-quoting, binding and issuing allows agents to underwrite coverage in far less time than it once took for the ink to dry on new policy documents.
Time saved on administrative tasks like data entry enables agents to focus on relationship-building and assessing a customer's insurance needs. Identifying areas where additional coverage or products could mitigate risk is a primary reason customers seek the services of an agent. The right distribution platform not only merges traditional agent and digital channels for seamless delivery of insurance products, it also enables real-time insights that identify cross-sell opportunities and offers a market network providing agents access to a full range of products from other carriers. By bundling these offerings with their own products, agents meet the broader needs of their customers without taking on unnecessary risk, setting their own appointments or being obligated to meet a net premium threshold for those products they don't underwrite.
Own the Customer Now
The right digital distribution platform empowers agents by merging traditional and digital channels to more fully meet the evolving demands of today's consumer. Flexible and easily appended to internal systems, the platform enables customer interactions across multiple channels and allows agents to access customer information from the first keystroke through the last. By leveraging this information through a platform's market network capabilities, agents can identify additional customer product needs and then offer a bundled solution to mitigate risk without having to underwrite every policy. Satisfaction rates soar, positively impacting customer acquisition and retention, while carriers improve revenue per customer.
To learn more about empowering your agents with direct-to-consumer capabilities, download our thought leadership piece,
---
1. Global Digital Insurance Benchmarking Report 2015. Bain and Company, 2015. http://www.bain.com/Images/GLOBAL-DIGITAL-INSURANCE-2015.pdf
2. J.D. Power. Digital Are the Channels of Choice for Today's Auto Insurance Shopper; Digital Leaders Setting the Pace for Premium Growth, Says J.D. Power Study. J.D. Power, 29 Apr. 2016. Web.
3. Global Digital Insurance Benchmarking Report 2015. Bain and Company, 2015. http://www.bain.com/Images/GLOBAL-DIGITAL-INSURANCE-2015.pdf
4. Dreyer, Tim. "Omni-Channel Service Doesn't Measure Up; Customers Are Tired of Playing Games." Web log post. Aspect.com. Aspect, 29 Jan. 2014. Web.
5. "Playing for Keeps: How Insurers Can Win Customers, One at a Time." Editorial. www.pwc.com. PricewaterhouseCoopers LLP, July 2014. Web.