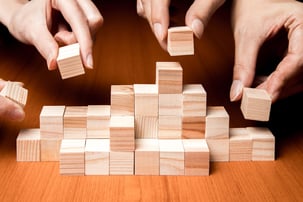 In reading recent reports on InsurTech, it was heartening to see the number of insurers that have chosen to gain the market-leading capabilities and tools they need to succeed by partnering with innovators.[i],[ii] Many of the major insurers on the list are seeking differentiation, focused on augmenting their product lineup with a new offering, such as State Farm's and Allstate's partnerships with Openbay to provide non-collision auto repair services.[iii] Others are expanding distribution through a new channel such as an app.[iv]
In our experience, insurers who start a partnership with an InsurTech focused on a narrow goal, such as gaining homeowners coverage to enhance their existing auto, inevitably expand the relationship, because the right InsurTech partnership rapidly positions insurers for greater growth and prosperity.
Banking on the Power of an InsurTech Partnership
Banking on the digital savvy of an InsurTech innovator can deliver powerful results, but in our experience, focusing on the following three areas produce the greatest overall outcomes:
Empower agents: In the initial talk about digital distribution, many assumed that agents would be ousted from their traditional roles and forced into a position of obscurity. We don't see this happening and neither do leading insurers as 50% of consumers still want to speak with an agent when they have questions or concerns.

[v]



The problem is, when you put an agent up against the Amazon experience, the agent comes out as woefully inefficient, taking too much of the consumer's time to manually plug reams of information into multiple back-office systems to generate a quote.
Agents are still a powerful force in the industry, but to keep their competitive edge, they need the ability to speed the quote-to-issue lifecycle. One leading insurer stands to improve premiums by $100 to $150 million by the end of this year because they streamlined agent's tasks to offer seamless product bundling in a single transaction.
Overhauling legacy systems won't get other insurers there fast enough, but partnering with the right InsurTech will.
Add product and channel choice: I mentioned the Amazon experience above, because it has shaped so much of consumers' shopping preferences and expectations. As we see by following InsurTech funding and partnerships, traditional insurers are realizing the direction that consumers are pushing the industry, and in an attempt to get ahead of the game, are differentiating themselves and the service they provide by partnering with InsurTechs to add channel and product choice.
We see tremendous benefits for insurers who focus on meeting more of the customer's needs. Consider a leading insurer who introduced new coverage options by selling other carriers' products to augment their auto lineup and added 72,000 policies in under 10 months. Another gave agents access to additional home products and grew policies sold from less than 8,000 a month to 57,000 a month.
Of course, product choice isn't complete without giving consumers the ability to engage with insurers through their channel of choice. One top 5 insurer, well known for their digital prowess, has been reported to own quote conversion rates of 35% through agent channels and up to 53% through direct purchasing.[vi]
The problem for most insurers comes in attaining digital capabilities and the extensive range of products they need to acquire and retain customers. Developing new products can take up to a year or more, and overhauling legacy technology to add digital channels of engagement and efficiently distribute new offerings is an arduous task. Neither course of action will make traditional insurers competitive before leading digital rivals pass them by. Partnering with InsurTech innovators to bundle products from other carriers with their own and distribute them with top-tier digital capabilities, can.
Streamline the quote-to-issue lifecycle: During a recent advertising campaign, one client generated 3,000-4,000 quotes a day, but not by simply cranking up their advertising power or frequency. Instead, they supported the extended marketing campaign by digitizing the quote-to-issue lifecycle for 80% of desktop traffic and 100% of mobile users. Smart app capabilities and automation allowed consumers to enter minimal information and automatically generate rapid quotes. The experience is similar to Amazon's product purchasing environment, where customers search a product, are immediately presented with options, and click to buy the items they want. This is the future of insurance, and by partnering with a leading InsurTech provider offering a SaaS-based digital distribution platform this insurer is providing the future today.
Coming Back for More
Because of the outstanding outcomes listed above, it's been our experience that insurers focused on a simple goal, say of improving product selection or extending delivery channels, often expand the relationship to include more offerings and new distribution capabilities. One Top-Five insurer partnered with a leading innovator to enhance product selection for in-house agents by bundling their products with those from other carriers through a digital distribution platform, and three years into a five-year contract, signed up to offer additional product options, added 367 agents, and extended the relationship to also offer their products and carrier appointments direct-to-consumer via digital channels.
Why? Because within the first two years, they found themselves presenting 70% of customers with an offer, converting 35% of those quotes and doubling sales year-over-year. With outcomes like these, who wouldn't expand the relationship?
To learn more about selecting the right InsurTech innovator to power your growth, download our infographic:
Eric Gewirtzman bio:
CEO and Co-founder of BOLT Solutions, Gewirtzman is a leading force for innovation in the insurance industry. Blending over 20 years of expertise with extensive experience in creating and delivering game-changing insurance-related products and services, he continuously strives to help carriers meet market demand and realize business growth in the face of significant disruption. He takes advantage of the lessons learned throughout a history of consulting top firms on ground-breaking technology implementations, to give today's carriers a competitive advantage and stronger growth.
---
[i] "Quarterly InsurTech Briefing Q2 2017." Willis Towers Watson, Willis Re & CB Insights, July 2017. Web.
[ii] "The Top Financings, Partnerships & Hirings in Insurance Tech – Q1 2017." CB Insights, Mar 31, 2017. Research Briefs. Web.
[iii] "The Top Financings, Partnerships & Hirings in Insurance Tech – Q1 2017." CB Insights, Mar 31, 2017. Research Briefs. Web.
[iv] "The Top Financings, Partnerships & Hirings in Insurance Tech – Q1 2017." CB Insights, Mar 31, 2017. Research Briefs. Web.
[v] Dreischmeier, Ralf, Jean-Christophe Gard, Michael Nddam, and Alpesh Shah. A Roadmap for Winning as Insurance Goes Digital. Rep. BCG Perspectives, 27 Oct. 2014. Web. 6 June. 2016.
[vi] Noa Shavit. "Progressive Dominates the American Auto Insurance Market." Jumpshot, Sept. 13, 2016. Jumpshot Tech Blog. Web.