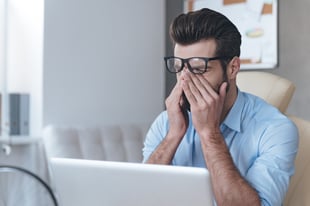 Todd feels like a long distance runner, taking on the race in flip-flops. He's ill-prepared for the undertaking and encountering frustration turn after turn.
Todd is an exclusive P&C insurance agent, and this is a day in his life.
Ill-prepared for the Digital World
The simple truth is, most P&C exclusive agents are not adequately prepared to meet the demands of an increasingly customer-centric environment. Lacking strong digital tools, Todd starts his day unable to retain one of his long-term customers. She's been price-shopping ahead of her current renewal and has found cheaper auto coverage from an all-new digital competitor. Tech-savvy newcomers understand how to use digital channels to operate on a shoestring budget, and Todd's company can't compete with the lower price or the slick new website offering anywhere, anytime engagement options.
Todd's company has a fancy new website as well, and though it sees a lot of traffic, it doesn't seem to be generating the repeat and new business he needs. It's mired in legacy technology and fails to give him access to customers' online transactions. When they call him to discuss issues or augment their coverage, he is in the dark, asking them for information they've already provided and muddling through multiple systems to provide quotes.
The same holds true with leads he receives from aggregator sites. In an increasingly digital world where customers expect the efficient, smooth pace of an olympic runner, Todd is still struggling along in those flip-flops, manually filling out each application field and asking customers for information they've already provided online. He can feel their frustration mounting with each keystroke as he re-enters information into multiple internal systems.
In a race where nearly 80% of consumers want to research and purchase coverage through digital channels,[i] Todd is falling behind, lacking the digital tools and product selection he needs to take the lead by retaining and acquiring more customers.
Closing the Long Distance Gap
Todd's race to the finish line could be significantly improved with the right digital distribution platform. A single console with autofill capabilities that populate all of the required internal systems would give him the ability to rapidly complete applications without data re-entry transforming his flip-flops into high-end running shoes, as he seamlessly picks up with customer transactions right where they leave off in digital channels. When customers hear about his ability to rapidly quote, bind and issue a policy, they'll be practically carrying Todd across the finish line toward greater acquisition and retention.
More importantly, with the right digital distribution platform, he'd gain the product selection necessary to engage the vast majority of consumers who want the ease and convenience of consolidating coverage under his roof. By taking advantage of an immense market network of product offerings, Todd can bundle his products with those from other carriers to meet the complete product and budgetary needs of each and every customer, without taking on additional risk. It puts Todd well ahead of his competitors and significantly improves his day by making it easier to acquire new customers and far more likely that he'll hold onto the old.
How has your day been impacted by the digital capabilities of your company's website? Do you find yourself like Todd, running in flip-flops, or has your organization embraced the full range of digital functionality necessary to compete in today's environment?
Next week we'll check back in again with agent Todd to see how he's fairing as his company adopts an all new, product-rich digital distribution platform.
---
[i] Global Digital Insurance Benchmarking Report 2015. Bain and Company, 2015.http://www.bain.com/Images/GLOBAL-DIGITAL-INSURANCE-2015.pdf