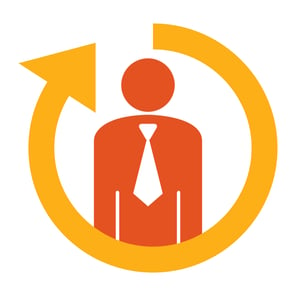 Carriers and their agents may have a rocky road ahead. According to the Bureau of Labor Statistics, the median age of an insurance agent today is 44.5,[i] putting the highest percentage of the agent workforce on the road toward retirement.[ii] In fact, a quarter of them are predicted to leave the workforce by 2018.[iii]
Not surprisingly, industry growth projections are high, coming in at 2.8% above the national average of 6.5%,[iv] as P&C insurers seek qualified members of the younger generation to fill the slots of vacating agents. In this environment, carriers need to maintain an active force of experienced agents who can keep the lights on while helping to train new and less experienced professionals.
In our experience, strong digital capabilities pave the way toward a more productive and satisfying agent work environment. The improved efficiencies realized through digitization help insurers avoid agent churn and reduce operational redundancy, while opening the door to exceptional insurer growth by meeting consumer demand for digital engagement and product choice.
Insurers, Heed the Agent Cry
As with any profession, new and experienced agents alike have some grievances with their employers, resulting in turnover and talent acquisition gaps at a time when insurers need to build a solid, future-ready agent base. As it turns out, some of the leading causes of job dissatisfaction among insurance producers can be easily helped, if not solved, by employing leading digital capabilities. The right digital distribution platform provides insurers with the tools they need to create a satisfying work environment and to combat some of the top contributors to agent churn:
Time Management: New agents, in particular, struggle with time management, reporting that they spend too much time on administrative tasks to fully focus on generating new business.[v] Through advanced automation, digital distribution reduces the time agents spend on re-entering customer data into multiple back-office systems to generate customer quotes. That's because digital distribution automates many of the administrative tasks associated with the quote-to-issue lifecycle, giving agents the time they need to grow their book of business.
Solid Support: According to EY, agency management tools are a critical component of developing a strong agent force.[vi] Leading carriers use the agent reporting dashboards of their digital distribution platform to gain detailed insights on agent performance, indicating those who are struggling and where they are having the most difficulty. Early alerts like these can prompt supportive action for agents, particularly as they learn to adjust to a digital environment.
Managing multiple quoting systems: In the Insurance Journal's 2016 Young Agents Survey, the up and comers had a big beef with insurers' quoting systems.[vii] Remember, this is the digital generation, so having to manually re-enter customer data into multiple back-office systems to generate a series of quotes is more than time consuming. It's an antiquated means of doing business. A digital distribution platform that automates the entry of customer information and provides access to that information from a central console alleviates this concern and improves agent workflow. Agents enter customer data only once and the platform populates all necessary systems, enabling multiple quotes to be rapidly generated in a single transaction.
Finding prospects and qualifying leads: Engaging prospects and fulfilling their insurance needs is what agents do best, but some spend more time following up on leads that can't be converted than they do on closing sales. Too often the qualifying process ends with an agent losing the sale because they can't meet the full product needs or price points of the consumer. A leading digital distribution platform gives agents the means to turn every lead into a customer through access to a tightly integrated market network of products. Agents can bundle offerings from other carriers with their own to meet the complete needs of the customer, without taking on additional risk.
Digital Distribution Improves Profitability
Customers want to interact digitally with insurers, so companies that invest in digital capabilities not only improve the efficiency of the agency workforce, they drive overall profitability by attracting and retaining more customers as well as agents. A leading digital distribution platform goes a step beyond the typical omni-channel customer engagement options, giving agents a market network of robust product choice. By bundling their offerings with those from other carriers, agents sell 1.4 more products without underwriting additional risk. Revenue skyrockets as well, growing 24% over five years, giving agents a satisfying and profitable work experience.
To learn more about reducing agent churn and the power of the right digital distribution platform, download our infographic,
---
[i] "Employed Persons by Detailed Occupation and Age." U.S. Bureau of Labor Statistics. U.S. Bureau of Labor Statistics, 08 Feb. 2017. Web.
[ii] "Employed Persons by Detailed Occupation and Age." U.S. Bureau of Labor Statistics. U.S. Bureau of Labor Statistics, 08 Feb. 2017. Web.
[iii] "How You Can Capitalize on the Insurance Agnecy Retirement Exodus." Agency Equity. Strategic Agencies, LLC., 02 Feb. 2017. Web.
[iv] Insurance Sales Agents. Data USA. Deloitte, 2017. Web.
[v] Cuprisin, Jim. "Agents, Brokers Reveal Where They Struggle, Tools They Need." Property Casualty 360. ALM Media, 16 Sept. 2015.
[vi] Beyond the Agency Portal: Expanding the Value Proposition for Property and Casualty Distribution Management. EYGM Limited, 2016. Web.
[vii] Wells, Andrea. "What Young Agents Like & Don't Like." Independent Insurance Agents of San Antonio, 31 May 2016. Web.