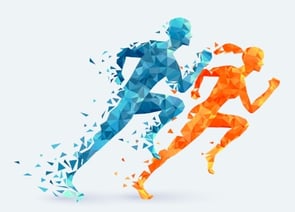 Currently, 73% of consumers want online purchasing, but in the U.S., a single insurer is racking up 70% of online direct-to-consumer profits.[i]
Digitally-deficient insurers, on the other hand, are missing out on an opportunity to attract an ever-growing segment of the market. Even worse, they're falling farther behind in the race for market share.
Accenture predicts that incumbents could be risking up to 25% of profits by waiting to develop digital distribution capabilities.[ii] Findings like these suggest that digital transformations should be a high priority for insurers, but where specifically should they focus their efforts in 2018?
Becoming Digital Leaders
An evolution is underway in the insurance industry. Defined by changing consumer preferences and evolving technology, many insurers are finding themselves in the midst of upheaval without the tools they need to respond.
At the heart of market change is the speed and force at which technology has reshaped business capabilities and engagement opportunities, creating an environment where consumers expect greater convenience and a more personalized focus when interacting with businesses.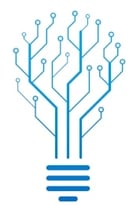 The insurance industry has remained strong in the face of these changes, with solid profits and share prices across the globe,[iii] but it is not immune to the impact of evolving consumer standards and the technology revolution underway.
On the
, a global, cross-industry study of how incumbent industries are likely to fare in the face of disruption, insurance ranked 0.37 on a zero to one scale.[iv] According to Accenture, companies at this stage are vulnerable to the impact of rising trends due to structural inefficiencies and low strength in innovation.
Industry influencer and author at Insurance Thought Leadership, Matteo Carbone, believes in the industry's adaptability, as long as they are focused on relevant technology adoption.
"I'm convinced that insurance companies will still be relevant in the future, or will become even more relevant than they are now," he said in a
. "But these companies will have to be InsurTechs or players who use technology as the main enablers for reaching their own strategic objectives."
For insurers to create greater adaptability as they move into 2018, the emphasis needs to be on swiftly rising to the status of digital leaders—those insurers who front the industry in digital adoption. Currently, leaders account for only 23% of the market, but they have strong characteristics that set them apart.[v]
Omni-Channel Critical to Future Growth
Accenture's
found that 74% of digital leaders are focused on providing consumers with omni-channel distribution, the ability to deliver a consistently high-level experience across engagement channels.
Half of consumers use more than one channel to shop for and purchase coverage,[vi] but the experience is not consistent as they migrate from one channel to another. Siloed core systems are mostly to blame, as information entered through one channel can't be accessed through another.
"You see consumers starting transactions online," said Tom Hammond, president of U.S. operations, BOLT. "Then they switch to the consumer-facing call center to ask a question, and the agent there has to recreate the application or request information the consumer has already provided."
This type of engagement inconsistency doesn't fly with most consumers who expect interactions with their insurer to be as easy as making a purchase on Amazon.
---
---
"It has to be fast, and it has to be easy," said Hammond. "And above all, the experience must meet the consumer's needs at that particular moment in time." He stresses not only the compatibility between channels, but having the channels available that consumers want to use at the moment they are ready to engage.
"In our research, we found that 73% of consumers would like to purchase online," said Hammond. "So, the first step for most insurers is to begin ramping up their online direct-to-consumer capabilities to enhance the agency channel."
Making Operations More Efficient
As insurers embark on digital transformations, the goal must be to improve operational efficiencies. Focusing on auto insurers, the first to dive into digital, McKinsey predicts that a large incumbent could more than double profits over the course of five years thanks to the augmented efficiency realized by digitizing existing operations.[vii]
Those who fail to use digital to improve operational effectiveness can expect ongoing future declines of between 0.5% and 1%.[viii]
"Frankly, what this new dynamic brings about is really to put a spotlight on the inefficiencies that exist with the underlying core systems and the base business capabilities that insurance companies struggle to perfect," said Craig Bedell, global insurance industry executive, IBM Watson. "And too many are overlooking the need to address these fundamentals."
Insurance Nexus supports Bedell's statement with research covering over 1,000 insurance industry participants. Their findings indicate that insurers rank siloed operations as among their top concerns, accompanied by innovation and the need for digital capabilities.[ix]

Just as system siloes inhibit a smooth customer experience across channels, they are also responsible for organizational inefficiencies. Product siloes alone contribute to a lengthened quote-to-issue lifecycle, according to Hammond.
"Imagine providing all of the information to quote an auto policy, getting your price, and then having to start another application to receive a separate quote on homeowners," said Hammond. "That's the experience that most insurers are still providing their customers through digital channels despite available technology that shortens the quoting and purchasing process."
Rick Huckstep, industry influencer and partner at the Digital Insurer, advocates a two-speed model when it comes to dealing with core systems. In this model legacy technology remains the system of record, but insurers partner with third-party digital distribution platform providers to gain a single point of access to system silos and power the web front end with speed and efficiency, as well as simplified online purchasing.
Insurers are able to accelerate the quoting process by pricing several types of coverage from a single application, and then use automation to efficiently quote, bind and issue the selected policies.
Meeting Consumer Needs through Product Choice
After surveying 2,000 executives in industries highly impacted by technology, including insurance, McKinsey found that digital leaders not only prioritized digital transformations, but also product innovation.[x]
The insurance industry is set to witness unprecedented change in core product demand as trends, such as the autonomous revolution, impact consumer behaviors and as a result, their coverage needs in the not so distant future. For the here and now, the ability to customize coverage to consumer specifications is growing in importance. AIG Travel is now structuring their products to allow travel agents and other distributed partners the opportunity to create policies according to the needs of consumers, by selecting components, such as trip cancellation or security evacuation coverage, on an individual basis rather than asking consumers to pay for coverage they don't need.
"We understand that consumers want a more personalized travel experience, which is why we have worked tirelessly to get to this point where we will be able to offer [travel] agents more options to provide a better-targeted spectrum of products – and ultimately a better experience for travelers," said Jeff Rutledge, CEO, AIG Travel, in a press release.
---
---
Despite demands for custom-tailored coverage, price continues to be a driving factor behind consumers' purchasing decisions. Half of consumers responding to Accenture's Voice of the Customer Study indicate loyalty to their current insurer is based on the cost of the coverage they provide.[xi] Come renewal time, if another insurer offers a better price, the customer will switch to take advantage of the savings.
Insurers who can provide more than a single offering of one type of coverage, such as auto, are better able to serve customers on both price and customization, but product diversity also plays a role in meeting consumer standards. By having access to a broader selection of products, insurers can provide the policy that best suits the budgetary needs of the consumer as well as the specific policy options and the expanded coverage types they are seeking.
As we kick off 2018, more insurers will need to offer product choice if they are going to remain competitive into 2019. Over half of digital leaders have already prioritized product innovation.[xii] with a growing interest in ecosystem partnerships to expand opportunities and access to additional products and services.
The Future Belongs to Partnerships
Research into submissions received for the 2017 Efma–Accenture Innovation in Insurance Awards revealed that 76% of insurers believe their competitive advantage will be determined by the strength of the partnerships they form.[xiii] Digital leaders in insurance are increasingly merging their core business functionalities with third-party platform providers to create a network of digital partners.
These ecosystems augment insurer capabilities in everything from customer service to distribution and underwriting, according to Accenture's research,[xiv] and open doors to product sharing, where insurers offer policies from other carriers to expand their diversity of coverage.
Best of all, partnerships position insurers to become digital leaders today, while the biggest gains in digital transformations are being realized.
---
---
A major insurer partnered with a digital distribution platform provider in May of last year to better meet the needs of its customers.
The platform offered seamless quoting of both the insurer's own products, as well as carrier appointments, directly through online channels. By July, the insurer had seen a 7% year-over-year growth in business as consumers responded positively to the ease and convenience of the quoting and purchasing process and the ability to find the best price.[xv]
As digital leaders continue to take a larger share of the market, we believe 2018 will be the year that the next wave of early adopters will begin to enter the scene. How do you see this next trend impacting your organization?
---

Kathleen Garlasco | Executive Vice President of Marketing at BOLT
---
[i] "The Voice of the Customer: Identifying Disruptive Opportunities in Insurance Distribution." Accenture. Accenture Financial Services, 2017. Web
[ii] Steven Gunderson, Claudia Lindsey, Ravi Malhotra, Rohit Reddy, Erik Sandquist. "The Future of Insurance Distribution: New Models for a digital Customer." Accenture, 2017. Web.
[iv] Michael Costonis. "Insurance Hasn't Changed Much – But Everything Around it Has." Accenture, Jan. 25, 2018. Web.
[v] "Reimagining Insurance Distribution." Accenture, 2017. Web.
[vi] Henrik Naujoks, Tanja Brettel, Harshveer Singh, Darci Darnell and Andrew Schwedel. "Customer Behavior and Loyalty in Insurance: Global Edition 2017." Bain & Company, Sept. 14, 2017. Web.
[vii] "Digital Disruption in Insurance: Cutting through the Noise." McKinsey & Company. Digital McKinsey, 2017. Web.
[viii] "Digital Disruption in Insurance: Cutting through the Noise." McKinsey & Company. Digital McKinsey, 2017. Web.
[ix] "Insurance Nexus Global Trend Map 2017." Insurance Nexus, 2017. Web.
[x] "Digital Disruption in Insurance: Cutting through the Noise." McKinsey & Company. Digital McKinsey, 2017. Web.
[xi] "The Voice of the Customer: Identifying Disruptive Opportunities in Insurance Distribution." Accenture, 2017. Web.
[xii] "Accenture Distribution and Agency Management Survey: Reimagining Insurance Distribution." Accenture, 2015. Web.
[xiii] "Transforming Insurance through Innovation. Efma/Accenture, 2017. Web.
[xiv] "Technology Vision for Insurance 2017: Amplifyou." Accenture, 2017. Web.
[xv] "Investor Relations 2017 Q3." Progressive. Progressive presentation, 2017. Print.