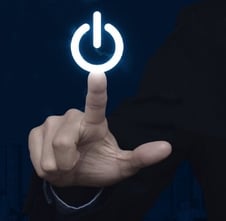 In response to changing consumer expectations and preferences, Rick Huckstep, insurance industry influencer and chairman at The Digital Insurer, sees insurers evolving from the
, where risk and premium move from brokers and agents to carriers and then reinsurers.[i] Huckstep envisions an emerging new industry order built around the customer, where trusted insurers own relationships and automation makes it easier to do business.[ii]
Customer-centered operations are more than a trend netting small gains. CX consulting firm Walker reports that 86% of consumers are currently willing to pay more for a customer experience that meets their needs and standards.[iii]
In the P&C insurance industry, that experience is defined by rapid distribution of an evolving array of products through the channel the consumer most wants to use at any given moment. For 73% of consumers, that channel is the insurer's online storefront, where automation of key components of the quote-to-issue lifecycle improve the speed and efficiency of the customer experience.[iv]
Huckstep feels that China's ZhongAn is the epitome of online distribution in insurance. With 99% of their operations automated,[v] ZhongAn affords consumers the opportunity to quickly and easily quote and purchase coverage online.
While the U.S. market is heading in the same digital direction, the transformation has been slower and is much more complicated. According to Eric Gewirtzman, CEO, BOLT, in an interview with McKinsey, agents will remain a part of the insurance-buying equation for many Americans, even as they embrace digital purchasing options,[vi] creating an increasing number of distribution channels for insurers to address in digital transformations and raising the challenges associated with acquiring customers through the online storefront.
Driving Acquisition in the New Order
In the old-world order of insurance, consumers and small businesses worked with an agent or a broker to assess risk and determine appropriate coverages. These intermediaries interacted with consumers, facilitated the purchasing of policies, and were the primary drivers of acquisition efforts, supported by extensive carrier advertising.
Agents have been an important part of the buying cycle for many consumers due to policy complexity, but recent research conducted by Insurance Information Institute (III) reveals that consumers still don't understand their coverage well enough. For example, less than 70% of consumers surveyed knew whether their policy covered medical costs for someone injured on their property, and 43% erroneously assumed flood damage was covered when it was not.[vii]
To drive acquisition through the online storefront, Accenture predicts that many insurers will use automation to design digital channels that act as virtual agents, providing advice and issuing product recommendations to support decision making.[viii] Their
found that 68% of respondents prefer to use digital channels to research coverage. In fact, 74% are willing to accept computer-generated advice on the type of insurance they should buy, an option that is particularly attractive to consumers in the highest income levels.
---
---
Incorporating computer-generated guidance into the online storefront is a key imperative for digital insurers, but the quality of that advice is a primary driver of acquisition. Consumers expect to receive personalized buying recommendations tailored to their life stage, goals and risks, with simplified explanations of their insurance needs and the coverage being purchased.
The good news for insurers is that consumers are ready to play a part in personalizing the guidance they receive. Accenture's consumer survey reveals that 64% of consumers are willing to grant access to personal data if it leads to more relevant advice and product recommendations.[x]
Product Choice Enhances Acquisition
For half of the over 32,000 customers surveyed in Accenture's consumer study, loyalty and retention was driven by product pricing more than any other factor.
To overcome consumers' cost-conscious attitudes, forward-thinking insurers are seeking new ways to differentiate and generate loyalty, including a new focus on product diversity through digitally-enabled direct-to-consumer distribution.
Bain's
found that consumers are also looking to insurers to provide ancillary services, such as home security monitoring or the ability to compare auto repair shops and book appointments online, in addition to traditional coverage.
---
---
To make this rapid shift from traditional distribution models to meeting more of the consumer's needs more often, Bain sees insurers leveraging ecosystems. These synergistic partnerships build on an insurer's digital foundation and allow them to deliver the products and services their customers want or need.
Nationwide recently partnered with TrueMotion to enhance the functionality of their SmartRide Mobile App.[xi] The relationship will provide greater insight into distracted driving behavior, giving the insurer a way to meet the needs of the 46% of consumers who value personalized advice from their insurer on being a safer driver.[xii]
The future will see more insurers turning online storefronts into digital department stores, offering real-time product and service recommendations, and then fulfilling those needs through ecosystem partnerships.
Working within these ecosystems, insurers can use the digital storefront to offer products from other carriers or providers to meet more of the needs of each and every consumer. Making the customer's life easier leads to greater loyalty and is an important factor in driving acquisition in the digital age.
The Rise of the Omni-Channel Insurer
The rise of the digital revolution is changing the way consumers purchase insurance and interact with carriers, but it isn't forcing agents out of the picture. According to Bain's customer behavior and loyalty study, the largest group of insurance customers today now use both online and offline channels when engaging with insurers. This is particularly true in distribution where J.D. Power found that 74% of shoppers purchasing coverage start transactions online, but 22% move to a consumer-facing call center to close the purchase.[xiii]

To meet consumer's evolving needs, EY advises insurers to provide an omni-channel environment where consumers can move seamlessly between channels.[xiv] According to Gewirtzman, despite insurers' best efforts at digital transformations, this isn't always happening.
"Insurance customers are already moving between various channels, but there is a big difference between being multi-channel and being omni-channel," said Gewirtzman.
Gewirtzman uses the quality of the cross-channel experience to differentiate between multi-channel and omni-channel operations. In a multi-channel experience, consumers are able to move between channels, but there is no consistency of service. Some channels will generate strong customer satisfaction, while others will fall short.
In an omni-channel experience, consumers seamlessly move between digital engagements and even consumer-facing call center operations, realizing the same high level of service as they do.
Given that excellent customer service generates loyalty for 65% of consumers,[xv] the strength of that cross-channel experience is very important, making the efficiency of the online storefront and its seamless connection to other channels key to driving customer acquisition in the digital age.
Bringing Omni-Channel to the Online Storefront
The biggest challenge for insurers when moving to an omni-channel business model comes from the multitude of back-end systems required to run existing operations. Lack of visibility between CRM, policy admin and agency management systems keeps insurers from gaining a single view of the customer, leading to an unsatisfactory experience as consumers interact with the online storefront and then move to another channel.
A consumer who begins their insurance journey by researching and quoting coverage online, expects to pick up exactly where they left off when changing to a new channel, such as the consumer-facing call center, but without visibility into online channels, agents must restart the transaction.
, sees insurers partnering with digital platform providers to enable greater acquisition through online storefronts without the need to modify core systems. These partnerships focus on leveraging legacy technology for quick time to market on digital implementations.
Furtado says that cloud-based, SaaS-solutions, such as InsurTech digital platforms, allow speedy implementations, quick time to market and can integrate back-end silos without the need to replace existing technology. It's the two-speed model recommended by Huckstep, where insurers maintain core systems as the system of record and build the agility necessary for online interactions into the digital front end.
As consumers expand their insurance buying to web-based channels, digital advisorship, product choice and strength in omni-channel capabilities will be critical attributes of an acquisition-driving online storefront. How do you envision the future of your online storefront and what efforts are you taking to support the acquisition efforts of your organization?
---

Kathleen Garlasco | Executive Vice President of Marketing at BOLT
---
[i] Rick Huckstep. "Distribution: About to Get Personal." Insurance Thought Leadership, Oct. 9, 2017. Web.
[ii] Rick Huckstep. "Distribution: About to Get Personal." Insurance Thought Leadership, Oct. 9, 2017. Web.
[iii] Toma Kulbyte. "32 Customer Experience Statistics You Need to Know for 2017." Super Office, Nov. 6, 2017. Web.
[iv]"BOLT® Solutions, Inc. Survey Finds P&C Insurance Carriers Know the Importance of Innovation, but the Path to Get There Isn't as Clear." BOLT, Inc. Press Release. BOLT, Sept. 27, 2017.
[v] Rick Huckstep. "Distribution: About to Get Personal." Insurance Thought Leadership, Oct. 9, 2017. Web.
[vi] "Think Omnichannel, Not Multichannel." McKinsey & Company, March 2017. Web.
[vii] "2016 Consumer Insurance Survey Homeowners Insurance: Understanding, Attitudes and Shopping Practices." Insurance Information Institute, Feb. 2017. Web.
[viii] "The Voice of the Customer: Identifying Disruptive Opportunities in Insurance Distribution." Accenture, 2017. Web.
[ix] "The Voice of the Customer: Identifying Disruptive Opportunities in Insurance Distribution." Accenture, 2017. Web.
[x] "The Voice of the Customer: Identifying Disruptive Opportunities in Insurance Distribution." Accenture, 2017. Web.
[xi] "Who's Using What in P&C Insurance: Dec. 4, 2017." ALM Media. Property Casualty 360, Dec. 4, 2017. Web.
[xii]"The Voice of the Customer: Identifying Disruptive Opportunities in Insurance Distribution." Accenture, 2017. Web
[xiii] Paul Lucas. "Why Auto Insurance Agents are Still Needed in the Digital Age." Key Media. Insurance business Magazine, Jan. 25, 2017. Web.
[xiv] "Digital Transformation in Insurance." EY, 2017. Web.
[xv]"What Do Online Shoppers Really Want? KPMG International Survey Details What Really Matters to Consumers." KPMG, Jan. 11, 2017. Web.