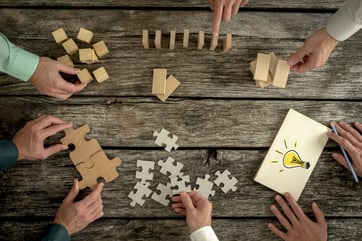 We've been talking a lot about innovation recently, and with good cause. The ability to rapidly innovate is no longer a someday proposition, but an immediate concern for insurers as they grapple with gaining market share in the current environment.
Here's a bit of a history lesson on innovation in the insurance industry. In a 2015 study conducted by KPMG on the value of innovation, eight out of ten industry executives believed their ability to swiftly innovate was critical to staying ahead of the competition.[i] Unfortunately, KPMG also reported that where innovation was concerned, insurers were too focused on incremental change, rather than on making strides in innovation that drove growth and shaped markets. Insurers were still missing the mark in one critical area: the customer.
Oh, how times have changed. While most insurers have not yet reached the customer obsessed state necessary for long-term growth, in just one swift year, insurers have begun to embrace the customer imperative. According to KPMG, over 90% of insurance executives are now focused on improving customer loyalty and using new and existing technology to enhance customer relationships (71%) and product service offerings (66%).[ii]
The challenge for insurers comes in taking the critical next steps. Customer expectations have changed based on their digital experiences in other industries. For insurers to be successful over the long term, innovation must still focus on fostering customer relationships and personalizing not only product delivery, but the offerings themselves, and it's something insurers can't wait to achieve.
It's Now or Never
According to McKinsey, the insurers who will reap the greatest rewards from innovation and digital technology in the customer-obsessed market, are those who act now.[iii] As insurers focus their innovation on digital efforts, there are three main areas that will bring the highest returns:
Digital Efficiency Gains: With 80% of customers using a digital channel at least once in the insurance buying process, digitization of the quote-to-issue lifecycle is imperative to attracting and retaining customers. It is also the key to significant efficiency gains that result in competitive cost reductions. McKinsey estimates, for example, that auto insurers who fail to gain efficiency through digital transformations stand to lose between .5% and 1% of future annual profits.[iv]
Product Selection: In KPMG's survey of insurance CEOs, 66% plan to use innovative technologies to improve product selection.

[v]

In an era of customer choice, consumers are looking for an insurer that can more precisely meet their needs and mitigate their risk, while also fulfilling the all-important price equation. To do so, insurers will need to expand outside of their current offerings and deliver greater customization.
Applied Analytics: Top revenue gaining insurers are also top digital performers,

[vi]

and one area where they've learned to excel is in the field of analytics. Using analytics to profile and segment customers, insurers have gained higher-quality leads and heightened cross-sell rates, leading to overall greater profitability and enhanced customer relationships.
Innovative Partnerships Deliver
KPMG reports that 41% of insurance executives plan to partner with other firms to achieve the digital capabilities required for competitive growth. In our experience as an early InsurTech Innovator, these partnerships benefit insurers by enabling faster revenue growth and greater market share, particularly in the areas of digital distribution and advanced product choice.
The right digital distribution platform works with existing technology and turns insurers into digital powerhouses, delivering top producing capabilities today, instead of waiting for upgrades to existing systems sometime in the future. Partnering with the right digital distribution platform provider returns significant results:
Reduces up to 50% of operational costs by automating the quote-to-issue lifecycle[vii]
Boosts revenue 24% over five years as insurers bundle their offerings with those from other carriers through a robust market network of expanded products without underwriting additional risk.
Improves market share by 12% through inherent analytics that segment and profile customers and provides real-time alerts on product recommendations and coverage gaps.
Swiftly innovating toward digital success puts insurers ahead of the competition, and insurers that have partnered on digital distribution with an early InsurTech Innovator are already reaping the rewards while positioning themselves for greater agility against future market disruption. Learn more about partnering with an Insurtech Innovator by downloading our thought leadership,
---
[i] A New World of Opportunity: The Insurance Innovation Imperative. October 2015, KPMG International Cooperative ("KPMG International"). Web.
[ii] Embrace Change in Changing Times 2016 Insurance CEO Outlook. 2016, KPMG, LLP. Web.
[iii] Catlin, Tanguy; Johannes_Tobias Lorenze, Christopher Morrison, Holger Wilms. Time for Insurance Companies to Face Digital Reality. McKinsey, March 2017. Web.
[iv] Catlin, Tanguy; Johannes_Tobias Lorenze, Christopher Morrison, Holger Wilms. Time for Insurance Companies to Face Digital Reality. McKinsey, March 2017. Web.
[v] Embrace Change in Changing Times 2016 Insurance CEO Outlook. 2016, KPMG, LLP. Web.
[vi] Catlin, Tanguy, Ido Sebev and Holger Wilms. The Hallmarks of Digital Leadership in P&C Insurance. McKinsey, Aug. 2016. Web.
[vii] Tanguy, Catlin, Somesh Khanna, Johannes-Tobiaz Lorenz, Sandra Sanceir-Sultan. Making Digital Strategy a Reality in Insurance. McKinsey. Sept. 2016. Web.