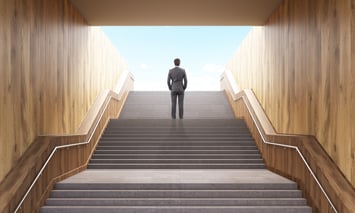 The explosion of the on-demand economy has created opportunities for a new generation of disruptors in the insurance industry. These InsurTech start-ups have successfully attracted media attention and investor funding, and they aim to take wallet-share from incumbents by digitally distributing fresh, P&C insurance products to customers seeking a more streamlined, personalized way to buy insurance.
On the other hand, InsurTech Disruptors lack the brand recognition, financial strength and customer base of incumbent insurers, making it challenging to grow and scale to meet the multi-product, omni-channel desires of today's consumers.
In this environment, existing insurers have an advantage, but need significant digital strength and advanced product selection to see it through. Partnering with an InsurTech Innovator positions incumbents to capitalize on forward-thinking technologies to compete against these new market entrants.
Reducing the Risks of Disruption
It's no surprise that InsurTech Disruptors continue to receive attention. They've introduced digital know-how, and innovative products to the industry. Pay-per-mile, peer-to-peer and other novel insurance offerings have obvious appeal for customers who want the ability to customize coverage to their needs and usage. By example, the newcomer, Trōv, allows users to insure whatever they want — from surfboards to laptops — and set the duration of their policies.
Legacy insurers have warily watched the rise of these disruptors and now recognize the impact that digitally-delivered, innovative products may have on their own brands. According to a 2016 survey, 9 in 10 insurers fear losing some aspect of their business to InsurTech Disruptors, but also see opportunities in the trend.[i]
The insurance industry has lagged behind most other sectors in adopting the new on-demand paradigm. A variety of factors—including the complexity of insurance regulations, legacy technology, tired products and a complacent culture — have held it back. Despite these issues, incumbents still have the customer base, brand recognition, financial strength and longstanding personal connections with their customers to give them a significant advantage over disruptors, when paired with the right digital capabilities and product selection.
Taking the Next Step
Determined to meet the disruptors head on, forward-thinking insurers are now partnering with InsurTech Innovators, to add digital status and product selection to their impressive array of attributes. These partnerships enable insurers to meet more of their customers' insurance needs through their channel of choice, and they are transforming how insurers interact and engage with consumers. They also provide a way for incumbents to address the challenge from InsurTech Disruptors and to maintain customer wallet-share.
Incumbent insurers must embrace cutting-edge digital tools to address the risks posed by disruptors. Partnering with an InsurTech Innovator is a solution that will open a wealth of new opportunities for established insurance providers and help preserve their standing as market leaders. This type of partnership offers incumbents the means to reposition themselves in the marketplace, the capacity to adapt their product portfolios to meet evolving market demands, and the ability to deliver a customer experience attuned to shifting consumer expectations.
Learn more about partnering with an Insurtech Innovator by downloading our infographic,
---
[i] Opportunities Await: How InsurTech is Reshaping Insurance. June 2016, PwC. Web.