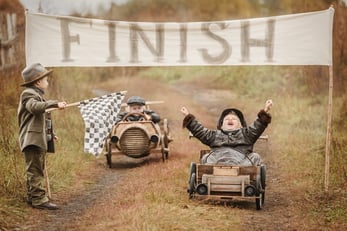 In an era where personalized services and offerings are the norm, P&C insurers have fallen into the commodity trap, failing to differentiate themselves and their products from the competition. As a result, customer loyalty has fallen and price has risen as the primary factor in differentiating coverage.
Last week, we discussed the importance of breaking out of the commoditized pricing mindset. This week we'll look at how insurers can set themselves apart from the competition by personalizing the customer experience and standing out as a unique provider of essential services.
It's About Personalizing the Customer Experience
At the end of the day, consumers expect insurers to provide them with the coverage they need to mitigate risk and protect assets. To ensure that customers are adequately protected while meeting their expectations for price and service requires carriers to personalize the insurance experience for each and every customer. Carriers capable of delivering a high level of differentiated service and a comprehensive set of product offerings set themselves apart from the competition, garnering greater loyalty as well as an 85% increase in customer wallet share.[I]
In creating a customer experience that sets a carrier apart, there are some main points to consider:
Know your target consumer—Some consumers are looking for basic coverage while others are looking for something more. In comparing insurance auto policies for example, it's easy to see how some carriers are differentiating themselves by including amenities such as accident coverage for a pet traveling in the car. This example highlights two important points. Insurers need to understand who their target customer is and how the distinctive points of their product offerings relate to them. Analytics play a big role in this process, aligning consumer needs with the right product features, aiding marketing efforts and insurer-to-customer communications by revealing which amenities of their offerings will appeal to the target audience.
Be a Leading Educator—Insurance is complicated and for many consumers, reading policy documents can feel like a lesson in legalese. Consider the case of a man and his pregnant wife who purchased a home, and then continued to live with relatives while they renovated the dwelling to shield the expectant mother from exposure to toxins being used in the work. Overnight, the pipes froze and the insurance company refused to cover the damage.

[II]

Here, a lack of understanding about "residence premises" in the policy documents led to irreversible losses, and probably some strong feelings about the insurer on the part of the customer. Carriers who take the time to educate consumers on policy specifics in a clearly understood manner, and through the customer's channel of choice, stand out as an insurer in touch with individual needs.
Customize, Customize, Customize—Customizing coverage is a key point of differentiation in today's productized insurance market. Too many insurers offer a set suite of offerings making it difficult for consumers to consolidate all of their coverage with a single carrier. This is unfortunate as nearly 80% of consumers want the ability to work with one carrier for all of their needs.

[III]

Insurers who can customize their offerings to fulfill all of a customer's product requirements not only set themselves apart from other carriers; they also personalize the experience. By drawing on a vast market network to bundle the exact products the customer needs at a price they can afford, they now own the customer, not just the policy.
Provide the Best Protection—An insurer's primary responsibility is to mitigate risk and protect customers' valuable assets. In the premium price war, this important fact can get lost, putting the emphasis on price as opposed to adequate coverage. Carrier's that take time to know consumers and recommend the best protection inspire greater loyalty and differentiate themselves by providing personalized service for each and every customer.
Offer Engagement Options—Each consumer embraces a different interaction profile. While some prefer face-to-face contact, the vast majority (79%) want to research, get quotes and purchase insurance via online channels with options to speak with someone when they have a question or concern.

[IV]

This means that no single channel can meet most customers' needs, and insurers will need a strategy that offers a predominance of digital capabilities while also supporting more traditional channels of engagement.
Digitally Personalized Service
As customers demand more simplified digital tools for quoting, binding and issuing coverage and the agent role evolves, insures have struggled with how to understand their customers well enough to provide the education and personalized service that they need, but leading carriers are using digital distribution to provide a differentiated level of service.
When you consider the depth of data gained across consumer interactions, it becomes easy to see how the right digital distribution platform can help personalize the customer experience. Imbued with analytics capabilities, a comprehensive digital distribution platform enables the collection of data from the first transaction through the last and spawns insights that guide insurers on how to personalize each and every customer experience. Appropriately segmenting and targeting customers becomes easier and an important part of an insurer's differentiation strategy, allowing them to personalize communications and interactions according to the most important concerns of the customer.
Consider the earlier example where a carrier's auto offering included medical coverage for pets traveling in the car. According to the APPA National Pet Owners Survey, 79.7 million households own a pet.[V] Appropriately segmenting and targeting this large demographic could become an important part of that insurer's differentiation strategy, allowing them to personalize the coverage they offer to the most important concerns of the customer.
What if the insurer could then go a step farther, utilizing analytics to understand their target customer's interaction preferences, and then communicate about the unique aspects of their offering through those channels? Education, quoting, binding and issuing, could all take place at the customer's convenience. With the right digital distribution platform, carriers even gain access to a market network of product options, offering the ability to bundle their products with those of another carrier without taking on additional risk. The result is personalized service that sets the carrier apart and supports the achievement of revenue goals.
Differentiation is the Key
As expectations for greater customer-centricity continue to unfold, insurers must help consumers break out of the commoditized mindset and personalize the service they provide their customers. Stay with us as we continue to explore how insurers can differentiate themselves as next week we discuss how carriers can transform from a provider of commodities into a service provider of stand-out insurance solutions.
To gain greater insight about personalizing the customer experience you deliver, download our latest infographic,
---
[I] Whelan, David, and Sean O'Neill. Customer Loyalty in P&C Insurance: US Edition 2014. Rep. Bain & Company, 2014. Web. 3 Apr. 2016.
[II] Smith, Shane. "Property Insurance Coverage Law Blog: Denied Insurance Claim Lawyers: Merlin Law Group." What Constitutes a "Residence Premises: Property Insurance Coverage Law Blog. Merlin Law Group, 1 July 2016. Web. 09 Aug. 2016.
[III] J.D. Power. Gen Y Consumers More Likely to Split Their Policies across Multiple Insurers than Any Other Generation. J.D. Power, 17 Sept. 2015. Web.
[IV] Global Digital Insurance Benchmarking Report 2015. Bain and Company, 2015. http://www.bain.com/Images/GLOBAL-DIGITAL-INSURANCE-2015.pdf.
[V]"Pet Industry Market Size & Ownership Statistics."Http://www.americanpetproducts.org/press_industrytrends.asp. American Pet Products Association, n.d. Web.