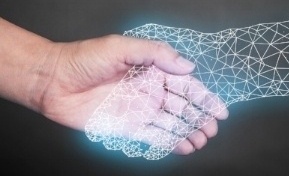 In 1994, Amazon burst onto the scene as an online book and music mogul, only to ascend to meteoric heights selling everything from media to groceries through web-based channels. The Amazon influence on consumers has reshaped purchasing expectations and created an entirely new way of buying the things that people need and want.
To discover the impact of these new buying habits on insurance, Accenture surveyed over 32,000 consumers globally in their Voice of the Customer report. Their findings revealed that as many as 50% are already purchasing coverage online.[i]

revealed that industry leaders are well aware of changes in consumers' purchasing behavior as those surveyed predict that 90% of insurance interactions will occur through digital channels within the next five years.[ii]
These evolving consumer preferences are making the carrier's online storefront a critical component of their brand identity, but in the world of online buying, the storefront must deliver more than fast efficient quoting and purchasing options. Consumers also expect a personal touch.
What Consumers Expect from the Online Buying Experience
When it comes to online shopping, consumers have high experience standards:
Findings like these clearly paint a picture of consumer preferences. When it comes to online buying, consumers expect to easily navigate to the product they want and compare prices, but they also want the experience to feel personal.
Personalizing the Online Storefront
Personalizing websites to appeal to multiple consumers isn't easy. Insurers have to know who their target consumer is and what they are likely to buy.

to be key when creating a loyalty-generating online experience.[ix] By systematically collecting customer information and mining data for insights, insurers can provide the products consumers want and even offer them at the moment they are most likely to buy.[x]
---

---
Tracking the purchasing habits of consumers in their baby registry, Target assembled a list of buying signals that indicated that a consumer was in the early stages of pregnancy. They were then able to highlight the most relevant products and offer personalized discounts on the items that were most applicable to expectant mothers.[xi]
This same type of data analysis helps insurers to improve the consumer experience delivered through the online storefront. According to a study by J.D. Power, consumers shopping for auto coverage use insurer websites to obtain quotes more than any other channel, but just 10% of those quotes convert to new business.[xii]
Monitoring consumer behavior across the online storefront can increase conversion rates by alerting insurers to trouble spots in the buying process and guide improvement efforts. Insurers can also take these opportunities to reach out to consumers who seem to be having difficulty with the online application or those who abandon a quote.
According to Bain's customer loyalty study, insurers who can create touchpoints beyond the typical claims and renewals connections, generate greater loyalty. Monitoring consumers as they interact with the online storefront leads to opportunities for greater involvement in the lives of individuals seeking coverage.
Respecting Consumers' Time
Insurers who focus on creating a customer-centered buying experience by improving the efficiency of the quote-to-issue lifecycle, demonstrate a respect for the consumer's time and instill good will. Automated prefill capabilities, for example, take much of the burden of completing an application off the consumer and put it on the insurer, making it easy to obtain quotes and make a purchase.
Allowing consumers to competitively quote products from the online storefront, or price multiple types of coverage from a single application, is another way insurers are meeting the needs of their consumers. Progressive now does both.
The HomeQuote Explorer app gives consumers the chance to complete a simplified application and receive quotes from four different carriers. Additionally, when a consumer shops Progressive's online storefront, they can receive quotes for both auto and homeowners coverage without applying for separate policies.
This

has allowed the insurer to keep their rates relatively low, while boosting stock prices 50% over the last 12 months, according to Fortune magazine, who recently listed Progressive CEO, Tricia Griffith, as one of the top 15 most powerful women in business.[xiii]
The Role of the Online Storefront in an Omni-Channel World
According to retail strategic advisor, Steve Dennis, "…Study after study shows that a well-integrated shopping experience across channels (what some call "omni-channel" and what I prefer to call "harmonized retail") is what customers desire and what often determines a brand's ultimate success," said Dennis in an article written for Forbes.[xiv]
Accenture's Voice of the Customer study supports Dennis' assertion, revealing that as many as 86% of respondents are open to receiving automated support, but up to 62% still prefer to receive guidance from an actual person when they have a question or need advice.
---

---
Research by J.D. Power shows what this looks like in action as 74% of shoppers purchasing coverage start transactions online, but only 22% actually close the purchase through a consumer-facing call center.[xv]
Given that 42% of consumers say the ability to ask questions is extremely important and excellent customer service generates loyalty for 65%,[xvi] the strength of that cross-channel experience is very important.
Consumers who have already provided information through the online storefront, don't want to reiterate the same information when speaking with the agent who takes their call. They expect to be able to pick up in a new channel exactly where they left off in the old, something that requires a single view of the consumer.
With most of their back-end systems tied up in silos, creating this kind of cross-channel visibility is difficult for many insurers to manage.
Achieving a Competitive Online Storefront
To deliver streamlined interactions and facilitate engagement, as well as the instant insights required to meet consumer expectations for immediacy in the online world, insurers need a single view of the customer. Mark Breading, partner at Strategy Meets Action, calls this the ultimate 360-degree view, where every employee and system has the information necessary to engage in informed interactions with the customer in real time.[xvii]
To gain this 360-degree view of the customer, insurers need visibility across all back-end systems from a central vantage point. Rick Huckstep, industry influencer and chairman of the Digital Insurer, recommends a two-speed approach. Employing InsurTech platforms, insurers can capitalize on investments made in IT legacy systems by building the agility and responsiveness necessary for online distribution into the digital front end.[xviii]
As insurers build efficiency into the online storefront, digital platforms play a strong role in uniting product silos, by populating back-end systems with information entered into the online storefront and providing a central point of access to all data. Consumers can seamlessly quote multiple products and make purchases through the click of the mouse or the swipe of a finger.
When they change channels, information entered into the online storefront is instantly available. Consumer-facing call center agents, for example, are able to pick up exactly where the consumer left off and realize the same benefits of automation when determining policy eligibility, providing quotes, and binding and issuing coverage. Transaction speed and efficiency are maximized, giving consumers a seamless cross-channel experience as they quote and purchase multiple products in single transaction.
Have you realized the loyalty-generating value of your online storefront, and what strategies have you used?
---

Kathleen Garlasco | Executive Vice President of Marketing at BOLT
---
[i] "The voice of the Customer: Identifying Disruptive Opportunities in Insurance Distribution." Accenture, 2017. Web.
[ii] "Opportunities Await: How InsurTech is Reshaping Insurance." Global FinTech Survey. PwC, 2016. Web.
[iii] Aaron Smith and Monica Anderson. "Online Shopping and E-Commerce." Pew Research Center, Dec. 19, 2016. Web.
[iv] Aaron Smith and Monica Anderson. "Online Shopping and E-Commerce." Pew Research Center, Dec. 19, 2016. Web.
[v] "What Do Online Shoppers Really Want? KPMG International Survey details What really Matters to Consumers." KPMG, Jan. 11, 2017. Web.
[vi] "Omni-Channel Retail in 2017: What Brands Need to Know and Modern Consumer Shopping Habits." Big Commerce, 2017. Web.
[vii] "Omni-Channel Retail in 2017: What Brands Need to Know and Modern Consumer Shopping Habits." Big Commerce, 2017. Web.
[viii] Ramona Sukhraj. "38 Mobile Marketing Statistics to Help You Plan for 2018." Impact, Nov 13, 2017. Web.
[ix] Henrik Naujoks, Tanja Brettel, Harshveer Singh, Darci Darnell and Andrew Schwedel. "Customer Behavior and Loyalty in Insurance: Global Edition 2017." Bain & Company, Sept. 14, 2017. Bain Report. Web.
[x] http://www.bain.com/publications/articles/customer-behavior-loyalty-in-insurance-global-2017.aspx
[xi] https://blog.hubspot.com/marketing/marketing-personalization-examples
[xii] "J.D. Power 2017 Insurance Digital Evaluation Study: Top-Line Results." J.D. power, June 2017. Print.
[xiii] "Most Powerful Women list." Fortune, 2017. Web.
[xiv] Steve Dennis. "The End of E-Commerce? These Days, It's All Just Commerce." Forbes, Oct. 2, 2017. Web.
[xv] Paul Lucas. "Why Auto Insurance Agents are Still Needed in the Digital Age." Key Media. Insurance business Magazine, Jan. 25, 2017. Web.
[xvi] "What Do Online Shoppers Really Want? KPMG International Survey details What really Matters to Consumers." KPMG, Jan. 11, 2017. Web.
[xvii] SMA's Mark Breading on the Ultimate 360⁰ Insurance Experience. Perf. Mark Breading. Vimeo. EIS Group Ltd, 2015. Web. <SMA's Mark Breading on the Ultimate 360⁰ Insurance Experience>.
[xviii] Rick Huckstep. "Digital Transformation Is the Strategic Imperative no Insurer Can Ignore." The Digital Insurer, Aug. 15, 2017. Web.