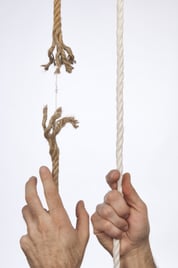 The race toward digital distribution in the P&C insurance industry is on. But due to the heavy cost burden and time obstacles associated with legacy system enhancements, many insurers view the rise of lead aggregator sites as a viable alternative to direct distribution, hoping to capture market share from online channels without the cost and delay of internal upgrades. The truth is, while aggregator sites generate leads, seizing market share requires more sophisticated consumer engagement.
With lead aggregator sites, insurers purchase leads that are often sold to multiple carriers. Consumers are left to field calls from carrier representatives or agents, often resubmitting information over and over again to obtain a simple quote. It is not a winning approach, and often results in consumer frustration and lost opportunities.
Fortunately, there is a solution that enables insurers to turn every lead purchased through an aggregator into net premiums and increased revenue. The implementation of a digital distribution platform allows carriers to engage with consumers throughout the complete customer journey. Positioned to easily and efficiently meet all of the immediate needs of incoming leads, insurers gain the opportunity to own the customer without owning all of the risk.
Turn Every Lead into Revenue
Aggregation sites open up targeted online advertising to insurers. Since 79 percent of consumers want to research coverage through the web,1 lead aggregators are a fast and easy way to get products in front of active purchasers – but they don't position insurers to close the deal. As customers trickle away to other carriers, lead value diminishes with every potential customer that fails to purchase coverage.
Alternatively, digital distribution platforms increase the potential of turning every lead into a real-time revenue opportunity by positioning insurers to fulfill all of the customer's coverage needs in one sitting. Combined digital and traditional channel offerings empower insurers to meet consumers when they are ready to buy. When combined with expanded marketplace offerings, insurers can even enter new markets and deliver new products without underwriting all of the risk.
How does it work? The most successful digital distribution platforms deliver three distinct advantages over lead aggregation sites:
Owning the customer: The best solutions make carriers more responsive and competitive through enhanced marketplace offerings that allow insurers to deliver coverage across the full range of customer needs, even if carriers themselves don't underwrite the policy. The insurer owns the customer without assuming all of the risk.
Owning the leads: The advantage of a successful digital distribution platform is that it allows insurers to interact with consumers in real time – quoting, issuing, and binding all of the customer's coverage needs at the click of a mouse and improving the odds of lead conversion at the point of sale, while keeping all commissions in-house.
Gaining market share: A premier digital distribution platform provides flexibility, offering carriers an extensive product selection to enter new markets without incurring unnecessary risk. They own the customer by meeting all of their coverage needs, gain insights to drive future interactions, and expand the customer lifecycle.
Digital Distribution Expands Market and Customer Wallet Share
Digital distribution makes it possible for insurers to interact through multiple channels, improving touchpoints and expanding insights that lead to greater customer centricity. But the real value comes from insurers being able to meet all of the customer's coverage needs through their channel of choice, by bundling their products with those they don't underwrite and without taking on additional risk, resulting in increased lead ROI, improved customer loyalty and increased wallet share.
Increase net premiums and revenue by closing more leads. Click here to explore the digital distribution advantage in our infographic,
.
---
1. Müller, Florian, Henrik Naujoks, Harshveer Singh, Gunther Schwarz, and Andrew Schwedel. Global Digital Insurance Benchmarking Report 2015: Pathways to Success in a Digital World. Rep. Bain & Company, 2015. Web. 26 Apr. 2016.