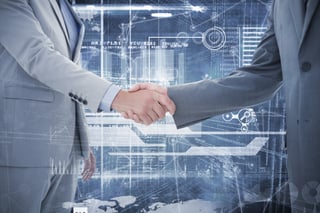 We live in a new, digitally focused era. According to a recent Forbes article, InsurTech is rapidly changing the insurance landscape by bringing the demands of the digital economy to the forefront of the industry.[i] InsurTech is on the rise and the tech-savvy consumers of today, demand immediate, paperless access to information followed by a speedy buying experience.
The expectation of access to differentiated digital channels for the entire insurance purchasing process – researching, quoting, purchasing, and support – has sped up the shift to a more digitally advanced insurance era. All of today's insurers must be able to easily navigate the rapidly changing landscape in order to secure a successful future. In this movement, there are two distinct types of companies: InsurTech Disruptors and InsurTech Innovators. InsurTech Disruptors look to challenge incumbents' customer wallet-share, while InsurTech Innovators aim to build on the advantages that traditional insurers already embrace.
InsurTech Disruptors enter the insurance scene with the hope that they will be able to seize market share from established insurers with what seems to be a competitive edge. By engaging consumers through digital shopping channels and introducing distinctive offerings like pay-per-use and micro-insurance, InsurTech Disruptors catch the interest and attention of the industry. The ultimate goal of a disruptor is to offer something unique and more customer-pleasing than they believe traditional insurers are able to bring forward – which sounds ideal, but isn't always the case given InsurTech Distributors tend to offer mono-line products and 80% of consumers want to consolidate their insurance with one insurer.[ii]
This is where InsurTech Innovators come into play. When a traditional insurer with an established customer-base and strong brand recognition, partners with the right InsurTech Innovator; one with a digital distribution platform that seamlessly connects to back-office systems and offers a tightly integrated market network of products to bundle with their own, they are armed to offer customers a one-stop shopping experience with the channel and product choice they expect today.
What Questions Should Insurers Ask when Seeking an InsurTech Partner?
InsurTech Innovators help insurers operate more effectively and efficiently while meeting the ever-changing needs of the evolving customer environment, but established insurers still need to do their research. Not all InsurTech Innovators are the same; some have long-standing records of success while others are just catching up to the industry. So how does an insurer choose the right one to collaborate with?
Some questions that today's traditional insurers should ask before investing in an InsurTech Innovator:
How will this solution arm us to increase customer wallet-share, boost premiums, grow revenue, enhance customer satisfaction and loyalty, etc.?
What impact does this partnership have on our internal IT resources?
Do we need to replace back-office or core systems?
How long does it take to implement the solution?
Does the InsurTech Innovator have an established track record?
How will the solution impact or improve my operational processes?
The InsurTech inspired shift toward a more digitally focused shopping environment with personalized product options is influencing how most P&C insurers market and sell their products so much so that the investment in InsurTech, by insurers, has nearly doubled in recent years.[iii] Don't miss your chance to partner with the best-fit InsurTech Innovator to grow your business, increase efficiency, and lower-costs.
For more information on how partnering with the right InsurTech Innovator can drive success for traditional insurers, download our latest thought leadership piece,
---
[i] Solodkiy, Vladislav. "How Insurtech Is Rapidly Changing Insurance And Health Tech Industries." Forbes. Forbes Magazine, 21 Oct. 2016. Web. 24 Feb. 2017.
[ii] J.D. Power. 2015 U.S. Household Insurance Study. www.jdpower.com. J.D. Power, 17 Sept. 2015. Web.
[iii] PricewaterhouseCoopers. "InsurTech: A Force for Good." PwC. PwC, n.d. Web. 28 Feb. 2017.