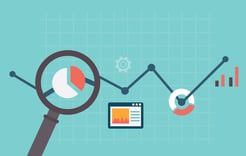 In the insurance industry today, it's not who you know; it's how well you know them. Consumers are looking for intuitive tools and services to guide them through their insurance buying journey and are awarding loyalty to insurers who can meet their preferred shopping and service needs. The carriers that stand to score big are those with the capacity to continuously improve the consumer experience by drawing deep customer insights from their digital distribution platform and streamlining the process of buying insurance.
Customer Loyalty is the Key to Profitability
Driven by retail innovations, insurance shoppers expect an ever increasing level of engagement and service from insurers, including custom-tailored offers and a product-rich environment. According to a recent study by McKinsey, insurers known to consistently provide best-in-class experiences generate two to four times more new business growth and are 30% more profitable than those with a less satisfactory or committed customer focus.1 This happens in part because satisfied customers renew their policies, but also due to the fact that 61% of customers respond to a positive customer experience by generating referrals,2 positioning an insurer to increase acquisition rates.
To meet more of their customer's expectations and drive greater profitability insurers widely recognize the importance of digital distribution and the role of analytics. In fact, a recent survey suggests that 31% of carriers are merging the two, using improved digital capacities to realize more significant insights into consumers.3 Leading carriers are going a step further, adopting a digital distribution platform with robust analytics capabilities as well as a broad market network that provides even greater consumer insights.
Elevating the Customer Experience Through a Market Network-Enabled Digital Distribution Platform
With a market network-enabled digital distribution platform, data is analyzed as it is collected and rapidly distilled down to the insights that build greater definition of the customer persona. Deeper insights enable insurers to enhance the customer experience in three critical ways:
Customer segmentation: Customer segmentation helps insurers identify coverage gaps and deliver targeted recommendations for products that could mitigate customer risk.
Real-time connections: A market network-enabled digital distribution platform analyzes customer information as it comes in, alerting insurers to coverage gaps while customer engagement is taking place, enabling more targeted cross-sell opportunities.
Market Intelligence: By joining a digital distribution platform's market network, insurers gain superior market intelligence across a large universe of customers.
With the right digital distribution platform, insurers know who to contact, when to contact them and what lifestyle changes should be discussed.
Customers Want More of a Good Thing
Big data and analytics are essential tools for insurers as they strive to deliver the customer-centric environment that consumers are demanding, and digital distribution simplifies the process of gathering information and gaining insights. To better position insurers for growth, they should consider the advantages of a digital distribution platform with robust analytics capabilities and a comprehensive lineup of in-demand products to address all of a customer's coverage needs, increase revenue per customer, and improve loyalty in the process.
To learn how to own the customer with a product-rich set of offerings download our infographic,
---
1. The Growth Engine: Superior Customer Experience in Insurance. Working paper. McKinsey & Company, Apr. 2016. Web. <http://www.mckinsey.com/industries/financial-services/our-insights/the-growth-engine-superior-customer-experience-in-insurance>.
2. Customer-Centricity: The Rules of Engagement. Rep. Verint, 2015. Web. 11 May 2016. <http://www.verint.com/assets/verint/resources/white-paper/customer-centricity-rules-of-engagement-us.pdf>.
3. Global Digital Insurance Benchmarking Report 2015. Bain and Company, 2015. http://www.bain.com/Images/GLOBAL-DIGITAL-INSURANCE-2015.pdf