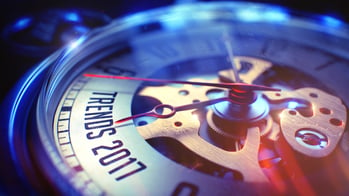 As record funding poured into InsurTech last year, speculation started to rise on the future of established P&C insurers. Even company executives were giving thought to the potential ramifications. They revealed in a study conducted by PwC that when it came to InsurTech Disruptors, margin pressures, loss of market share and increasing customer churn were the fears that kept them up at night.[i] What was missing in all of the talk about disruption, was a realistic delineation between InsurTech Disruptors and InsurTech Innovators.
While many current InsurTech contenders have positioned themselves as industry disruptors intent on seizing market share from established insurers, InsurTech Innovators have recognized the significant advantage traditional players hold in the market and have dedicated themselves to the development of innovative solutions designed to help established insurers beat the challenges they face and become industry leaders in delivering the customer-centric experience consumers are demanding.
How Innovative are InsurTech Disruptors?
It seems that before insurers could fully adapt to the digital revolution, an onslaught of new entrants came on the scene. Digitally adept and naturally in touch with the customer-centric movement now in process, they had no need to overhaul aging systems or adapt internal cultures to meet the evolving demands of consumers. As they continue to enter the market imbued with digital capabilities and head-turning products, the pace of change is accelerating, and while traditional insurers are challenged to keep up, InsurTech Disruptors might not be as forward-thinking and disruptive as they seem.
Looking at some of the major InsurTech Disruptors gaining attention recently, we see several trends:
Product personalization as customers turn coverage off and on as they need it or pay according to usage
Cost advantages delivered through strong digital capabilities
Coverage for things not commonly insured—gadgets, model railways or exotic pets, to name a few
Strong mobile offerings—52% of consumers now make purchases from a mobile device, representing a 30% year-over-year growth rate

[ii]
The list of emerging attributes is impressive, and put together would create a seriously powerful market contender, but the simple fact is, not one emergent InsurTech Disruptor can do all of the things on the list above and certainly not for all product lines. Traditional insurers however, when imbued with the right digital capabilities and product options, could offer the full list of customer-pleasing advantages that startups are now only offering piecemeal, and they could do it for all product offerings, delivering a one-stop shopping experience for consumers.
Looking at the InsurTech Innovators
PwC reports that nearly three-quarters of insurers predict disruption to their business over the next five years from the InsurTech movement, but less than half have plans to partner with an InsurTech,[iii] possibly because the lines have not been successfully drawn around Innovators and Disruptors. InsurTech Innovators realize that traditional carriers have the brand awareness and customers to take the market by storm. All they need are the right digital capabilities and product selection.
One InsurTech Innovator has been helping insurers evolve into top digital performers that outcompete against the disruptors through leading-edge digital capabilities and greater product selection. The digital distribution platform works with existing technology and gives the insurers all of the piecemeal advantages of a disruptor in a single package:
Product personalization: Access to a market network of products, giving insurers the power to bundle offerings from other carriers with their own—consumers and agents compare products and pricing to create the right insurance solution, even meeting critical price points and finding protection for unusual items. Best of all, quoting and purchasing of multiple products takes place in a single transaction, eliminating the need to shop different insurance providers.
Operational effectiveness: Strong digital capabilities that allow customers to buy direct while uniting customer data behind a single console, streamline agent and underwriter functions for improved efficiency and reduced operational costs.
Mobile offerings: The platform is channel rich, giving insurers the ability to merge traditional and modern means of customer engagement.
Personal and commercial solutions: The platform even offers solutions for both personal and small businesses, giving consumers the ability to purchase a vast selection of products through digital channels to meet all of their insurance needs.
By white-labelling the platform behind their existing website, insurers can adopt a digital, multi-product strategy with auto-quoting, -binding and -issuance of multiple products in a single transaction. That's something that no InsurTech Disruptor can do, nor have they realized the impressive benefits that traditional insurers see when partnering with an InsurTech Innovator on digital distribution, including a 12% rise in customer retention and revenue growth of 24% over five years.
To learn more about the benefits of partnering with a top-tier digital distribution platform with a vast market network, download our thought leadership piece,
---
[i] "Opportunities Await: How InsurTech is reshaping insurance". PwC. PwC, June 2016. Web.
[ii] "State of Mobile Commerce." Criteo, 2016. Web.
[iii] "Opportunities Await: How InsurTech is reshaping insurance". PwC. PwC, June 2016. Web.