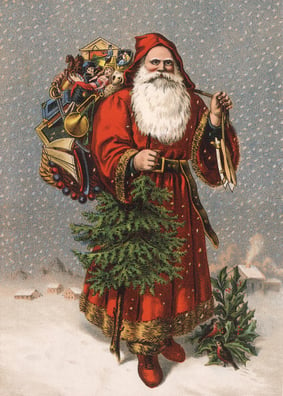 The Santa Claus most Americans recognize as the carrier of Christmas gifts to sleeping children was not always the happy man he is today. Early illustrations of St. Nicholas depict him as a stern, commanding figure, holding to a stout birch rod as a reminder to children of the importance of being good.i
Santa received a magical transformation from Clement C. Moore in The Night Before Christmas, becoming the jolly, good-hearted man we know today. Maintaining some of the original St. Nicholas lore, he was inspired by an early European belief that both good and evil spirits were active during the Twelve Days of Christmas,ii to form a magical band of elves to keep watch over children throughout the year.
Carriers Make the Nice List This Year
It's fair to say that the current transformation underway in the insurance industry is as dramatic as Santa's evolution from a stern task master into a "jolly old elf". Carriers are stretching their technological expertise from ancient legacy systems toward top-grade digital expertise.
Currently, nearly half (48%) of the Top 25 personal lines carriers are expanding product reach through a vast market network of products offered through a leading digital distribution platform. This enables them to meet more of their customer's needs, through customer preferred channels, without taking on additional risk. On the commercial front, Morgan Stanley, in conjunction with Boston Consulting Group (BCG), predicts that commercial carriers will accommodate 24% of small business insurance buyers through digital channels by 2020, a jump of 20% in just four years over the 4% sold digitally today.iii
Customers are Rewarding Right Steps
J.D. Power reports that for insurers with online purchasing capabilities, customer satisfaction with the overall experience improved by 7 index points in 2016. Customer satisfaction with assisted online interactions also improved in J.D. Power's 2016 U.S. Auto Insurance Study,iv and digitally-savvy millennials showed a 17 point increase in satisfaction with their homeowners insurance thanks to improvements in engagement strategies.v
Step by step, insurers are evolving into digital operations designed to meet the changing needs of their customers, and it's a process that would earn them top marks from the man at the North Pole. If we were able to see Santa's list for this Christmas, we're sure that insurers would make the "nice" list for their efforts to improve digital capabilities and product selection in distribution.
To see how leading insurers are achieving digital superiority with little to no wait and no significant IT investment, check out our infographic,
---
iGrossman, John. Christmas Curiosities: Odd, Dark, and Forgotten Christmas. New York, NY: Stewart, Tabori & Chang, 2008.
iiGulevich, Tanya. Encyclopedia of Christmas. Detroit, MI: Omnigraphics, Inc, 2000.
iiiPan, Kai, Chai Gohil, Nigel Dally, and Brian Nowak, CFA. North America Insight: Digital Disruption in Small Business Insurance. Rep. Morgan Stanley, 29 June 2016. Web.
ivJ.D. Power. News. Large U.S. Auto Insurers Drag Industrywide Customer Satisfaction Down Due to Price Perception, Says J.D. Power. Jdpower.com. J.D. Power, 20 June 2016. Web.
vJ.D. Power. News. Insurance Provers Focus on Customer Experience as Rates Remain Relatively Stable, J.D. Power Study Finds. Jdpower.com. J.D. Power, 19 Sept. 2016. Web.