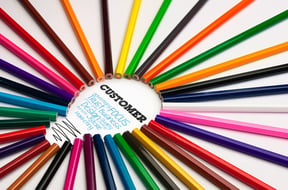 As reported previously in our four-part blog series on the fintech movement, insurance tech (insuretech) has witnessed incredible recent growth, setting a record pace in the first quarter of 2016. With first half funding clocking in at $1 billion, insuretech is well on its way to top growth in 2016.[i] Driven by strong customer trends toward ease of access and more customer-focused service, innovative startups are entering the P&C space, determined to pick up slack where incumbent property and casualty insurers are failing to meet the needs of today's consumers, particularly in the areas of new products and pricing.
Identifying the Unmet Needs of Consumers
Retailers may have been one of the first industries to recognize the power of a happy customer and then tame technology to do its bidding, but smooth multi-channel offerings and slick new customer experiences weren't their sole domain for long. Seeing the power in customer-pleasing interactions, other industries quickly followed suit, adopting less costly digital means to meet more of the needs of more customers more often.
Troubled by aging legacy systems and stout business models, P&C insurers have struggled to meet consumers where they want to be. Recent advancements toward digital distribution have filled some of the gaps, but it's like a leaky bucket. As soon as you plug one hole, the others just become more evident as water, or in this case customers, pour out ever faster.
Digital distribution, as essential as it is, can't do the job alone. This is where new entrants are gaining ground. Free of the ancient baggage incumbents carry, they are plugging gaps in critical areas that many established insurers have yet to address:
Price: More than half of consumers would switch insurers to save $250 or less,

[ii]

and yet, 79% reported that they want to consolidate their coverage with a single carrier. So, what's the bottom line? Consumers want both, requiring an insurer to offer the products the customer wants at a price they are willing to pay.
Service: While consumers continue to clamor for direct-to-consumer digital capabilities, the fact of the matter is, they still crave the advice of a trusted advisor, something traditional insurers are having a difficult time merging into digital distribution strategies.
Selection: Traditional insurers continue to operate from a productized focus, offering a suite of products that may or may not fit the needs of all of their customers. Considering the statistic cited above, that 79% of consumers want to consolidate their coverage with a single carrier, the ability to offer a product-rich environment is a significant advantage, and one that new entrants are ready to exploit.
How Insuretech Startups Are Meeting Customer Needs

New entrants understand the power of technology and are able to get the most from funding dollars by targeting customer pain points. Many newcomers are aligning their offerings to improve customer pricing, service or product selection, moving in where few established insurers have yet to go with customer-approved offerings:

Bang for the buck: Urging customers to "demand a better deal", some new startups are providing a platform for like-minded consumers to come together and lower the cost of insurance coverage. Offering a common range of options, such as home and pet insurance, and even less common selections like gadget insurance, these new startups negotiate group pricing for members based on certain criteria, and lower the cost of coverage for many individuals with unusual risk conditions. One group, for instance, caters to individuals living in flood-risk areas, while another may benefit owners of certain dog breeds, such as Golden Retrievers.

Peer-to-peer insurance works on a similar principle, bringing small groups of people together anonymously, allowing them to combine premiums and then share in a refund if no claims are made. Startups like these recognize the significant cost that insurance represents for most individuals, and offer avenues to mitigate some of the expense.

Identifying coverage gaps: Startups in the insuretech space have come up with a way of offering digital distribution while still fulfilling the customer's needs for a trusted advisor. One emerging startup offers to digitally assess an individual's current coverage, lifestyle and risk factors, then identify gaps and offer products, all with complete pricing transparency. Another is targeting millennials' social lifestyle by pulling information from social media sites to provide product recommendations. The key here is that consumers maintain the digital advantage while still receiving the services they want.
Consolidating coverage: If nearly 80% of customers want one insurer to fulfill all of their insurance needs, then a product-rich environment is essential. New entrants are meeting this need in different ways. Many allow customers to compare products and pricing and then elect to purchase coverage, either by being transferred to an insurer's website, or in most cases, by waiting to be contacted by the insurer. The more innovative option comes from a vast market network, where insurance products from various carriers can be bundled to meet the exact needs and cost requirements of the customer, providing a one-stop shop.
As technological advancements make it easier and less costly to deliver products to customers, a new ideal shopping experience has emerged. Considering the changes in customer expectations, lifestyles and preferences, the insurance industry is ripe for change. The question that remains is whether incumbent insurers will get in the game and meet new entrants where they stand or if insuretech companies will seize established ground. To learn about the future of insuretech and how traditional players can win more market share, look for our August thought leadership piece which puts the insuretech movement into perspective and discusses timely actions for insurers today.
To start evolving toward a more customer-centered ideal now, download our thought leadership piece, and learn more about aligning your business goals to your digital distribution strategy:
---
[i] "Funding to Insurance Tech Startups Tops $1B In First Half Of 2016." Weblog post. www.cbinsights.com. CB Insights, 05 July 2016. Web.
[ii] Vallet, Mark. "How Much to Make You Switch?" Weblog post.www.insurance.com. Insurance.com, 21 July 2015. Web.