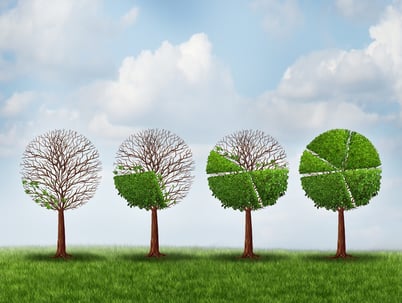 If there is one place where P&C insurance carriers really stand to lose in the current customer revolution, it's in the case of digital distribution. Seeking simplicity, nearly 80% of P&C insurance consumers want to consolidate coverage with one trusted insurer[i] while purchasing their coverage online.[ii] To better understand the impact this has on the P&C insurance industry, let's follow two separate carriers through a typical day.
A Day in the Life of Carriers A and B
Carrier A opened its doors for the first time in October of 1945. The company expanded rapidly, offering auto and home coverage to baby boom parents. In recent years, Carrier A has witnessed a dwindling customer base. Just this morning several long-time customers cancelled their coverage. They were seeking products outside of Carrier A's range of options—simple things like motorcycle coverage or travel insurance.
In the case of the Harley-owning customer, he had his head turned by one of those digital natives. You know the ones offering slick price comparisons, easy online interactions, and expanded coverage for anything you'd want to insure? In fact, Carrier A has been seeing a lot of that lately, as customers quietly slip away to consolidate their coverage with other insurers offering digital interaction options and greater product selection.
On the other hand, Carrier B is thriving in the current market. Like Carrier A, Carrier B has provided auto and home coverage for clients across the country for decades. A few years ago, they saw a dip in their acquisition and retention rates. They understood that a new digital wave was approaching, but were at a loss as to how to upgrade their legacy systems to the latest and greatest in digital capabilities.
That's when they decided to partner with a tech-savvy digital distribution platform provider. Not only did they easily gain access to all of the digital tools they could ever hope for, they were able to seamlessly implement them with their current systems and agent channels, offering a single console and enabling direct-to-consumer functionality with full visibility across the platform. Agents were empowered to seamlessly step in when needed, but the greatest benefit Carrier B has witnessed comes from an expanded market network of product options.
This day for them is a far different day than it has been for Carrier A. When a long term customer went online looking to add motorcycle insurance, they were able to provide it. When another came comparison shopping their auto coverage, Carrier B was able to offer an alternative product at a price the customer could afford and keep the homeowner's policy they've provided for years. Even more amazing was what happened when several new customers entered their website seeking a range of customized solutions. One wanted auto insurance that covered pets traveling in the car, but also the ability to combine it with dedicated pet insurance and her current homeowner's policy. Another wished to bundle auto, home and event coverage. Carrier B was able to do it all.
A Market Network Saves the Day
So what's the secret to Carrier B's digital distribution platform? It's the advantage of a product-rich market network. Here, carriers can combine their own products with those from other insurers, all from a single console, resulting in an endless array of customized customer solutions. Carrier B assumes no additional risk in doing so and maintains the renewal as well as customer loyalty and improved customer acquisition rates.
Bundling allows carriers to personalize customer coverage and meet their needs without lengthy and costly new product development woes. Bundling through a market network even allows insurers to meet the budgetary constraints of their customers while actually improving net premiums by 14%.
Is your organization struggling to meet the new product needs of your customers? If so, let's start a discussion or check out our thought leadership piece,
---
[i] J.D. Power. Gen Y Consumers More Likely to Split Their Policies across Multiple Insurers than Any Other Generation. J.D. Power, 17 Sept. 2015. Web.
[ii] Global Digital Insurance Benchmarking Report 2015. Bain and Company, 2015.http://www.bain.com/Images/GLOBAL-DIGITAL-INSURANCE-2015.pdf