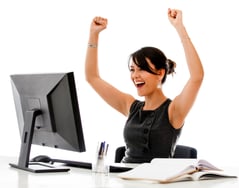 Today's property and casualty insurance industry is competitive. If agents aren't growing their book of business, they are falling behind. In order to increase customer acquisition and retention, agents need the right tools to efficiently handle the administrative load and effectively entice new customers. Many are finding the answer in the right digital distribution platform.
Achieving the Long-term Benefits of Customer Satisfaction
Omni-channel interactions and a comprehensive set of product options—that's what consumers are seeking in the new insurance economy. In response, technologically-proficient new entrants are taking a healthy bite out of the market and are upsetting the equilibrium of the industry, forcing a more competitive environment and leaving many traditional insurers asking the same question: how to meet consumer demands against aging legacy systems and an agent model that needs to evolve with the times.
Answering consumer demand requires agents first get a jump on efficiency. Think of the online shopping experience from retail giants such as Amazon and you see where the expectations for ease and convenience are heading. Since nearly 80% of insurance consumers say they will interact with their carrier online in the next few years,1 digital distribution is emerging as the answer.
Automating the buying experience is a big portion of the digital distribution package, and the right one connects easily to back-end systems, giving agents the ability to enter information once, as well as the customer-pleasing power of prefill capabilities that auto-completes application fields based on basic information from the consumer. Prefill capabilities and automation alone have been responsible for cutting agency costs by 40%2 and for reducing time spent on administrative tasks by up to 70%,3 but cost reductions and time savings are not the only upside to digital distribution.
A bigger portion of customer satisfaction in the shopping experience is derived from the complete fulfillment factor—that euphoria of finding everything in one simplified experience. Retail kings fulfill this need by offering an expansive array of merchandise. With the right digital distribution platform, agents can now do the same, bundling their products with those from other insurers to meet the complete needs of the customer. A leading platform even goes a step further, alerting the agent to potential coverage the consumer may need to mitigate hidden risk, in the end improving their effectiveness in customer acquisition and retention. It's all about fulfilling customer needs in a way that boosts satisfaction and encourages long-term loyalty.
Expanding Customer Wallet Share
A customer who has 2.5 P&C products with an insurer gives that carrier a 90% share of wallet as well as higher loyalty and longevity,4 a statistic that explains why successful agents are utilizing a digital distribution platform that improves not only efficiency, but effectiveness, by positioning them to meet all of the customer's insurance needs without taking on additional risk. Even if that means offering homeowners, auto, boat, pet, and even event insurance, agents can bundle their products with those from other carriers, to meet more of the customer's needs and grow their book of business.
By streamlining customer interactions, and offering a greater variety of products, agents are positioned to meet the full coverage needs of the client, grow their book of business, and secure lifetime customers. With the right digital distribution platform, new customer acquisition just might become the easiest part of an agent's day.
Realize the benefits of greater customer satisfaction and longevity by boosting agent efficiency and effectiveness. Click here to learn how to create a more efficient environment with access to the products needed to own the customer, by downloading our infographic,
.
---
1. Müller, Florian, Henrik Naujoks, Harshveer Singh, Gunther Schwarz, and Andrew Schwedel. Global Digital Insurance Benchmarking Report 2015: Pathways to Success in a Digital World. Rep. Bain & Company, 2015. Web. 5 May. 2016.
2. Munstermann, Bjorn, Ulrike Vogelgesang, and Georg Paulus. Successfully Reducing Insurance Operating Costs. Rep. McKinsey & Company, Apr. 2015. Web. 5 May. 2016.
3. BOLT Internal Data
4. Whelan, David, and Sean O'Neill. Customer Loyalty in P&C Insurance: US Edition 2014. Rep. Bain & Company, 2014. Web. 3 Apr. 2016.