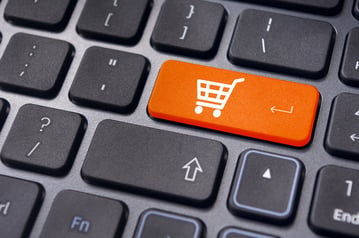 It's the job of the insurance marketing team to attract the right customers and keep them engaged, but marketing across generations, with different engagement styles and preferences, has created a new challenge for P&C insurance marketing leaders. While more than 80% of consumers want the ability to shop for and purchase coverage online,[i] some still want to speak with an actual person when they have questions, and most millennials, those up-and-comers who comprise the future of insurance, prefer to do almost everything online, from researching to quoting and purchasing. Marketing strategies, without both traditional and digital engagement capabilities, lead to missed customer acquisition opportunities and suboptimal results.
Everyone is Talking, but No One is Buying
Kate is a marketing leader at a top P&C insurance company. She's the one behind all of those flashy advertising campaigns that have everyone talking. The problem is, they aren't buying. While people are coming to the website and filling out the online quote form, too few prospects are converting to sales.
Her company has tried to rapidly expand their core legacy systems to accommodate online purchasing, but it hasn't been enough to bring consumers to the buying point and convert them to customers. Too many abandon the application mid-way or when they realize that completing the online form for auto coverage doesn't enable them to get a quote for their home without entering much of the same information a second time.
Internal agents are experiencing similar issues. Lacking visibility into the data customers enter online, they need to ask for the same information a second time if a potential customer wants to speak with someone after starting an application via the web. It's a time consuming process, and agents struggle to quickly populate a multitude of backend systems with consumer data to quote multiple products. As if the inefficiency wasn't bad enough, the customer frustration leads to abandoned applications and missed opportunities.
Kate understands where the customers are coming from. For years, she's used Amazon as the primary source of her retail purchasing, appreciating the fast, anytime, anywhere buying opportunities and the vast selection of products often offered through network sellers. She was especially appreciative when her local bank started offering online transactions, even allowing her to deposit checks by simply taking a picture. The high level of customer service offered by other industries and enabled by digital means has reshaped customer expectations, and the simple fact of the matter is, Kate's company isn't prepared to meet them.
Digital Now Without the Upgrades
To realize the fruit of Kate's marketing efforts, potential customers need the ability to engage with her company through the channel of their choice, and whether that is a full direct-to-consumer buying experience or facilitated through an agent, transactions need to be quick and efficient.
Leading digital distribution platforms enable carriers like Kate's to meet the 21st-century buying needs of consumers without core systems upgrades or replacements, simplifying quoting and purchasing with several key attributes:
Streamlined application process: Customers and agents enter information once, with the help of prefill capabilities, and receive access to multiple product quotes, driving up efficiency and reducing costs.
Rapid quoting, binding and issuance: Thanks to top-grade automation, quoting takes place within seconds, and purchasing at the click of a mouse, improving the odds that potential customers will make a purchase.
Product consolidation: No matter what coverage a consumer is shopping for, the right digital distribution platform can deliver by giving carriers the opportunity to bundle their products in one transaction, resulting in an 80% to 90% share of wallet

[ii]

, increased market share of 5%, a 12% gain in customer retention and revenue growth of 24% in five years.
Making the most of marketing efforts requires quick and efficient digital capabilities without the wait of legacy system upgrades. The right digital distribution platform works with internal systems, consolidating customer information to enable fast, efficient quoting, binding and issuance. To learn how to realize a strong return on your marketing investments through digital distribution, including how to improve customer retention by 12%, download our infographic,
---
[i] Global Digital Insurance Benchmarking Report 2015. Bain and Company, 2015.
[ii] ibid.