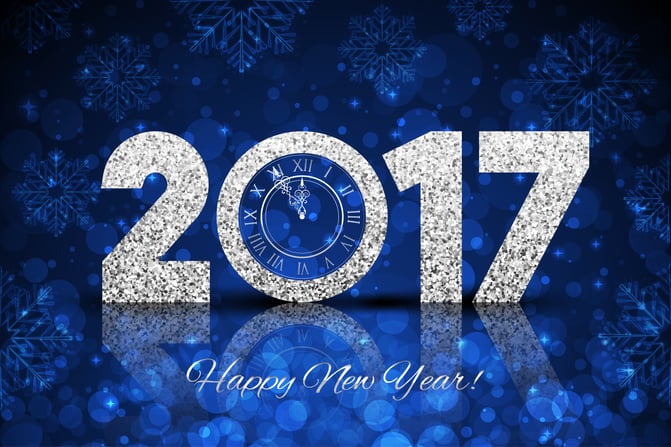 We at BOLT are usually focused on cutting-edge digital capabilities that propel insurers into the new era of distribution, but as we prepare to flip the calendar on another year, it seems important to take stock of the world around us, and see what people are thinking as they close out 2016.
Focus on Improvement
Out with the old and in with the new. That seems to be the message people around the world are communicating as they engage in midnight celebrations on December 31st. In some countries, such as Scotland, fire is used to symbolically drive away the force of bad spirits so that the good ones can thrive.[i]
In other countries, it's about changing fortune. Spaniards, for example, eat 12 grapes at the stroke of midnight to ensure 12 happy months ahead. Inhabitants of the Philippines honor a similar custom by wearing polka dots and consuming round fruit to invite luck and prosperity in the new year.[ii]
The same principle of positively impacting change is also honored in parts of Latin America, such as São Paulo and La Paz, where residents usher in the año nuevo in their underwear. Red is meant to invite love, while yellow indicates a need for improved monetary fortune. White is symbolic of the desire for peace.[iii]
For many cultures, the New Year celebration focuses on cleanliness. In Japan, traditions stem from the Buddhist belief that all earthly inhabitants are chained by 108 evil desires. The act of ringing the bell 108 times at midnight is meant as purification for the coming year.[iv]
Likewise, in Peru, the midnight celebration is a time to clear past differences and start anew. Fist fights give people the chance to settle old scores and start the year with a clean slate on January 1st.[v]
New Year Brings Positive Change
No matter the custom, the act of celebrating the new year is one of hope. It expresses a belief in success and renewal. As we look toward the next 12 months, the focus on change for the insurance industry is undeniable, but like most celebratory revelers, we believe in positive outcomes, in prosperity and good fortune.
Many insurers have already embraced leading digital capabilities, simply and quickly, without the hassle of core systems upgrades. And in doing so, they've gained access to a rich market network of products, enabling them to meet more of their customer's needs more of the time without taking on additional risk. They've seen previously unimaginable success, driving home 14% more in net premiums and boosting revenue by 24% over five years.
It's a message of optimism for the industry, so whether you're watching fireworks, eating grapes, dancing in your underwear or maybe honoring your own time-proven traditions, we believe that great things are ahead and look forward to being a part of the cataclysmic change being wrought in the industry.
To learn more about the future of digital distribution, take a look at our infographic,
---
[i] @TravelLeisure. "Travel + Leisure." Travel + Leisure. Time Inc. Affluent Media Group, n.d. Web.
[ii] Ibid.
[iii] Andrew Downie. "Brazilians Pin Their Economic Hopes on Yellow Underwear." The Telegraph. Telegraph Media Group, 17 Nov. 2008. Web.
[iv] "New Year in Japan." Japan-magazine. Japan National Tourism Organization, Dec. 2011. Web.
[v] Sood, Suemedha. "Peru's Christmas Fighting Festival." BBC.com/travel. BBC, 24 Dec. 2012. Web.