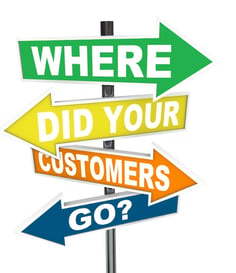 From geckos to good neighbors, helpful dogs and the unexpected, insurers employ large advertising budgets to ensure that their brand becomes a household name, but what happens from the time a customer enters your door (whether virtual or through an agent) and the moment they receive a quote will play a bigger role on whether they make a purchase than the marketing tactics you employ. If you're bogged down by product silos created by disconnected back-office systems and a lack of automation, you could be losing 36% of the customers coming to your door.
What Happens When a Customer Walks Through Your Door?
Advertisers know that they only have a few seconds to capture their audiences' attention, but many insurers don't understand that when it comes to quoting products, customer attention spans are nearly as short and insurers aren't doing enough to meet their needs for immediacy.
Consider what we found as we evaluated the purchasing capabilities of the top ten insurers:
Many applications are lengthy and require the submission of copious amounts of information
To quote multiple coverage types, most insurers require the customer to submit separate applications or talk to several agents
In order to purchase coverage, after requesting an online quote, many insurers required customers to wait for an agent to call, or if they called an agent to get a quote, had to wait while the offer was manually worked up
To understand what this means to an insurer's bottom line, let's take a look at the recent results of the J.D. Power 2017 Insurance Digital Evaluation Study, where nearly 4,000 mystery shoppers looking to purchase auto insurance evaluated insurer websites for ease of use and customer-pleasing features.
The study found that less than 10% of quotes provided through an insurer's website resulted in a sale, despite digital outranking all other channels in quote initiations.[i] As it turns out, when shoppers were dissatisfied with the speed and efficiency of an insurer's online quoting process, 36% left the insurer and closed through a competitor. That's more than a quarter of potential sales lost before the consumer ever received an offer.
Digital Wins the Race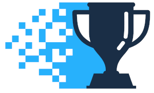 On the other hand, those insurers who have implemented leading digital capabilities have seen quote completion rates of up to 70%.[ii] They also grow revenue at 1.5 times the rate of less-enabled insurers,[iii] and even experience costs that are 50% lower per gross premiums written (GPW) than their digitally inferior competitors.[iv]
Here is how they're doing it:
Streamlined quoting: The ability to enter minimal information and receive a quote without copious data entry puts insurers in the running for higher quote completion and quote conversion rates. Top digital capabilities automate much of the quote-to-issue lifecycle, populating all necessary back-office systems, identifying coverage gaps and ensuring a quick and seamless process from first contact through application to quote.
Multi-product quoting in a single transaction: Most insurers in the top ten required consumers to submit separate applications or to speak to multiple agents in order to quote and purchase more than one type of coverage. Digital leaders, however, were able to simply and efficiently gather customer information once and return pricing on multiple product options in a matter of minutes.
Auto-quoting,-binding and -issuance: Meeting consumer needs for immediacy is key to converting quotes to sales, and automation gives insurers an edge by allowing consumers and agents to immediately quote, bind and issue coverage at the moment a consumer is ready to buy.
Rapidly Closing the Quote-to-Issue Cycle and Securing Sales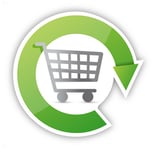 It's no secret why the majority of insurers still lag in the digital race. Legacy technology is a prominent contributing factor. Around for many decades, insurers' siloed disparate systems control much of the distribution process. Integrating them through upgrades or overhauls is costly and time-consuming. Worse, it doesn't always work.
Leading insurers have found a better way. By adopting a top-tier digital distribution platform that connects to existing systems, insurers seamlessly achieve digital superiority at a fraction of the cost required for major system overhauls or integration initiatives. They rapidly quote, bind and issue multiple coverage types in a single transaction, without sending customers to different agents or websites, driving customer satisfaction that results in quote conversion rates of up to 53%.[v] In addition, they stand to cut the time agents spend on data collection by 34%,[vi] and reduce up to 50% of operational costs.[vii]
If you haven't moved up to lightning fast distribution that includes multi-product bundling in a single transaction, what's holding you back?
To understand why top-tier digital capabilities are critical in today's environment, download our thought leadership piece,
---
[i]"2017 Insurance Digital Evaluation StudySM." J.D. Power, June 2017. Web.
[ii] Noa Shavit. "Progressive Dominates the American Auto Insurance Market." Jumpshot Tech Blog, Sept. 13, 2016. Web.
[iii] Catlin, Tanguy, Ido Segev and Holger Wilms. The Hallmarks of Digital Leadership in P&C Insurance. August 2016, McKinsey & Company. Web.
[iv] From Transparency to Insights McKinsey's Insurance Cost Benchmarking 2016. McKinsey & Company, June 2016. Web.
[v] Noa Shavit. "Progressive Dominates the American Auto Insurance Market." Jumpshot Tech Blog, Sept. 13, 2016. Web.
[vi] "The Technical Potential for Automation in the US". Infographic. McKinsey.com. McKinsey & Company.
[vii] Tanguy, Catlin, Somesh Khanna, Johannes-Tobiaz Lorenz, Sandra Sancier-Sultan. Making Digital Strategy a Reality in Insurance. McKinsey. Sept. 2016. Web.