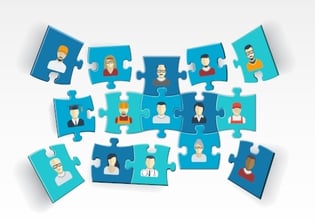 Preferring simple and fast transactions, consumer preferences for purchasing products and services, including property and casualty insurance, are shifting to online buying.
Seeking to meet consumer demands for purchasing efficiency, 67% of insurers are increasing technology budgets for 2018 and beyond, according to Strategy Meets Action (SMA),[i] and there seems to be a growing focus on distribution.
report revealed that digital distribution is a top concern for insurers, with one respondent putting it best when he said, "Failure to develop an effective digital/direct distribution channel will mean long-term market share decline".[ii]
A primary driver of efficiency in digital transformations is automation, but automating certain processes creates a more agile and efficient landscape that changes jobs and opportunities within the company, requiring insurers to consider how they will merge the roles of people with new technologies.
Changing Job Functions in the Face of Escalating Efficiency
According to Alex Bentley, director of corporate development, Blue Prism, automation is changing how organizations operate and the outcomes they receive.
"Organizations that adopt automation are able to reduce the cost to serve, be more responsive to the market, and address growth areas more effectively," said Bentley in an
with McKinsey. "So, I think there will be winners and losers in that respect. Those organizations that embrace automation can drive tremendous step changes in their productivity, while those who do not will be left behind."
Bentley says that automation has the biggest benefit for insurers by improving the customer experience. In the area of distribution, for example, automation makes it easier to apply for coverage through application prefill capabilities and shortens the quote-to-issue lifecycle, allowing consumers to get pricing and even purchase coverage in a matter of minutes.
---
---
As insurers adopt these time-saving features, processes within the organization change, impacting job functions and the people who perform them. McKinsey says that up to 30% of current business processes could be automated, eliminating up to one-third of U.S. workers by the year 2030.[iii]
In insurance, the prognosis is not quite so grim, with up to 25% of full-time positions prone to being consolidated or eliminated.[iv]
On the other hand, technology and automation open doors to new roles and occupations.
points out that 25 years ago jobs in areas such as IT development, hardware manufacturing and app creation did not exist. Just as new employment opportunities arose out of the technology revolution, automation will generate demands for new skills, creating job roles in insurance that we can't imagine today.
How Automation is Changing Job Roles
According to Accenture's Voice of the Customer study, 74% of consumers are willing to take digital advice on purchasing coverage. Given the significant role consumer preferences have had on industry evolution to date, it's a fair bet that more insurers will start implementing non-human advisors to help customers on their purchasing journey.
Banking on the popularity of their iconic figure, Flo, Progressive for example, has recently launched a chatbot version of the lady in white on Facebook messenger, giving consumers the option to ask her anything about insurance or even Flo herself.
Having an even greater impact on job functions across the organization, the recent launch of Progressive's HomeQuote Explorer will change how home policies are bought and sold. According to CEO, Tricia Griffith, third-party data is now being used to streamline the application process, creating faster, more efficient quoting for consumers. In addition, a new app allows consumers to comparison shop homeowners coverage.
---
---
As insurers employ innovations like these, roles aligned to the buying and selling of insurance evolve, requiring adaptations to the performance of employees. The move to digital reduces the amount of data entry required to process a quote, for example, while simultaneously transferring much of the responsibility for generating an application to the consumer in the case of online direct-to-consumer purchasing.
As automation takes on tasks and transforms processes,
a reshaping of the current bottom-heavy delivery pyramid, where the majority of back-office functions are performed by humans, opening doors to new and more fulfilling roles for individuals within the organization.
What's the Bottom Line?
Deloitte advises insurers to start preparing for the impact of automation on the workforce well before digital transformations are complete. As process automation changes employee functions, insurers will need to redeploy resources into what they term "more complex, judgement-intensive roles."
Managing talent will require upgraded training engines geared toward hiring employees with new skillsets and developing training programs that engage and elevate existing staff to new roles. Deloitte stresses that technology will not replace talent as a competitive advantage but will rather result in new jobs with all new definitions and requirements.[v]
The challenge for insurers is to identify skills and functions that will change or become obsolete, as well as future needs, and redeploy or hire talent accordingly. PwC's global InsurTech study revealed that 87% of insurance executives surveyed find it difficult to locate and attract talent with the necessary skillsets, and 38% find it hard to retain them, so being able to redeploy existing talent into new roles becomes a critical component of successful digital transformations.[vi]
This is where insurers who partner with experienced InsurTech providers have an edge. PwC reports that 40% of insurers are already investing in partnerships with third-party vendors.[vii] Partnerships with InsurTech companies form a growing number of these relationships as these digital pioneers provide insurers with transformation leaders who are experienced in managing change.
Understanding the impact of automation on evolving skillsets, they help insurers identify gaps and devise training solutions to move existing talent into new roles. Seasoned providers can also support business areas impacted by change while internal resources are brought up to speed.
As the digital revolution continues to gather steam, insurers need to prepare for the effect on people across the organization and decide early how to handle training and redeploying of skilled resources.
How is your organization addressing the issue of people in digital transformations?
---

Kathleen Garlasco | Executive Vice President of Marketing at BOLT
---
[i] "2017 Insurance Technology priorities and Spending." Strategy Meets Action. SMA report purchase landing page, 2017. Web.
[ii] "Insurance Banana Skin 2017: The CSFI Survey of the Risks Facing Insurers." PwC, 2017. Web.
[iii] Thomas Franck. "McKinsey: One-Third of US Workers Could Be Jobless by 2030 Due to Automation." CNBC, Nov. 29, 2017. Web.
[iv] "What's Now and Next in Analytics, AI, and Automation." McKinsey & Company. McKinsey Global Institute, May 2017. Web.
[v] "How Robotics and Cognitive Automation Will Transform the Insurance Industry." Deloitte, 2017. Web.
[vi]"Insurance's New Normal: Driving Innovation with InsurTech." Global Insurtech Report o- 2017. PwC, 2017. Web.
[vii] "Digital Transformation in the Age of the Customer: A Spotlight on Insurance." Forrester Consulting commissioned by Accenture, Nov. 2015. Web.