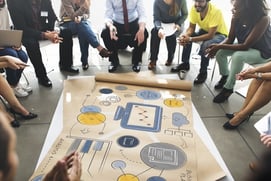 The past year has seen venture funding soar for the financial technology (fintech) sector, following record highs in 2015. Surprising many, particularly hardy startups are overcoming the regulatory boundaries and other hurdles to market entry and are setting their sights on the P&C insurance industry. Armed to meet the rising clamor for a more customer-centered market, new entrants are staking out new territory right in the back yard of age-old incumbents.
Last week we covered the march of new market entrants and took a look at the three main areas where startups are staking a claim. This week, we'll take a deeper look at how new technologies are leading the way for venture-backed companies to cause a stir in the areas of new customer acquisition.
It's the Dawn of the Digital Age—Are You Where You Need to Be?
Thanks to the stellar example of retail leaders like Amazon, customer expectations have been shaped to high standards. If you've ever shopped Amazon's site for a product (and who hasn't?), you probably recognize the customer centricity involved. In one easily accessible place, customers can research merchandise options and compare prices. Then, with nothing more than a click of the mouse or a swipe of a finger, their purchase is made, often without having to enter more than a username or password.
Despite the complexity of the insurance quoting, binding and issuing process, customers still expect the same quality interactions with their insurer as they receive from savvy retailer's, including speed and accessibility. But if you're thinking online portal, you're only scratching the surface. What the insurance industry needs, and what new entrants are in part creating, is a new customer experience.
Customer-Centricity in the Age of Anything Goes
Following the example of retail leaders like Amazon, new entrants are beginning to crowd the scene with customer acquisition technology aimed at meeting the needs of a complex group of consumers—and there has probably never been a time when insurers have had to consider so many widely varied lifestyles, preferences and requirements. While the majority of consumers, nearly 80%, do want to research and purchase coverage online,[i] many still want the option of a personal touch, and the expertise of call centers or agents when they have a question.
Add to that, the widely divergent generation gap. Baby boomers are barreling into retirement, taking on new pursuits and lifestyles that spawn new insurance requirements, while their younger counterparts are less likely to have insurance at all. Millennials in particular have created an acquisition conundrum for established insurers. They've also opened a door for fintech startups.
Meet Your Competition
Unburdened by years of entrenched business operating models and legacy systems, new entrants are firing up the innovation engines in a customer-focused effort that can't help but gain attention. Many are targeting millennials, but offer advantages that benefit and meet the needs of all generations, focusing on some key areas:
Establishing Trust: In the customer revolution, insurers have a poor reputation, something new entrants are proposing to fix by taking their cue from savvy retailers and using technology to educate consumers and provide price comparison options all from their website.
Accessibility for All:

Spouting slogans like "Insurance doesn't suck", new entrants are making it clear that they are on the side of the consumer, going to great lengths to design systems and processes that encourage insurance adoption by all. Some examples include using human behavioral studies to create processes that promote greater trust between insurer and insured. Others focus on adopting capacities that have proven successful in other industries, such as autofill capabilities that draw information from third-party sources to complete parts of the application that often result in consumers abandoning attempts at gaining coverage.

The Advent of On Demand: The current productized focus of incumbent insurers is one of the first things under attack by consumers tired of being served a staid line of products that may or may not fit their needs. Enter the age of on-demand insurance, where consumers can provide cover for individual items and even adopt custom-tailored time frames for coverage.
As fintech startups continue their march into the established P&C insurer space, one thing is becoming clear. Holding ground against new entrants will require insurers to redesign the customer experience, using technology to establish greater trust and make it easier for consumers to obtain pricing and purchase coverage.
What's Ahead
Stay with us as we continue to explore the march of new fintech market entrants in the insurance space. Next week, we'll take a look at the role of analytics in the new insurance market and how new entrants are employing insights in unique ways to improve the customer experience. In August, we'll put it all into perspective, through a comprehensive thought leadership piece that spells out what insurers can do to take back the industry.
To get a head start on meeting the new entrant's analytics capabilities, download our thought leadership piece:
---
[i] Whelan, David, and Sean O'Neill. Customer Loyalty in P&C Insurance: US Edition 2014. Rep. Bain & Company, 2014. Web. 3 Apr. 2016.