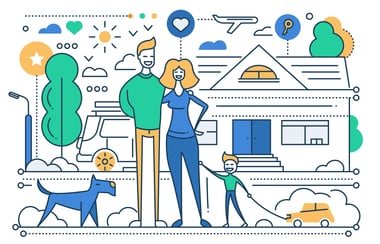 You know the InsurTech movement is gathering momentum and making an impact when PwC dedicates an entire research study to it. In a survey of over 189 insurance CEOs and other top executives, they discovered that 56% believe they are at risk for losing market share to aggressive InsurTech disruptors.[i]
Findings like this beg a few pertinent questions. First, why are incumbent insurers, with their solid customer base and financial capital so worried about a handful of startups who amount to only 9% of the market?[ii] Second, what can they do about it?
Where Is the Disruptive Threat?
The fear of InsurTech disruption may be a valid concern as DeNovo's monthly consumer survey of financial services consumers, including insurance, indicates that 30% plan to use these non-traditional providers in the future.[iii] Consider that direct premiums written for the top 25 incumbent providers totaled $610 billion in 2016.[iv] If 30% of the defectors each made good on their promise to purchase even one policy with a new entrant, the leading insurers stand to lose a considerable chunk of change.
---
---
So, what do insurers do to stop the exodus? Bundle coverage in one simple seamless transaction.
When insurers provide more than one P&C product to a customer, they realize at least an 85% share of wallet. That number jumps to 90% when an insurer can provide more than two products.[v] More importantly, bundling customers are more loyal and when treated right, stay longer,[vi] ensuring incumbents a bigger piece of the existing pie, including the chunk that now seems destined for InsurTech disruptors.
How to Secure a Greater Share of the Market
For a customer to hand over 90% of their insurance wallet share to a single insurer, they must be satisfied with the purchasing experience. To understand what it is they're seeking, we look to the behemoth of online sellers, Amazon. After all, with 43% of all retail sales in 2016, they must be doing something right.[vii]
Amazon makes it easy for customers to find the products they want, bundle them into a shopping cart and then, in one click, make a purchase. Below is a side-by-side comparison of an Amazon purchase compared to the experience shoppers receive with a typical P&C insurer:
| | |
| --- | --- |
| Amazon | Insurer |
| Consumer enters a simple product search query and receives options with prices. | Consumer searches for coverage and must respond to multiple questions, some that require lengthy details to answer. Often, the consumer is then asked to wait for an agent to call before getting pricing. |
| In addition to pricing on the item the consumer has searched, they are offered related products and pricing that may fit their needs. | Insurer identifies that the consumer may benefit from other types of coverage and sends them to a new webpage, website or agent, where they must provide the same information a second time to receive product pricing. |
| Consumers select items and purchase instantly. | If the consumer hasn't already abandoned the site before they receive pricing, they must now go to multiple sites or speak to many agents to purchase their policies. |
The ease of the shopping experience is what makes Amazon so successful. Consider, another success story with Expedia. By removing one field from their sign-up form, they increased profits by $12 million annually.[viii] Why? Because removing that one field made the experience easier and infinitely more pleasurable for their customers.
That's how important ease of use is. Yes, consumers are looking to bundle their insurance products, but not if making that purchase is time-consuming, tedious or unpleasant.
---
---
Examining the Bundling-Enhancing Customer Experience
A bit of good news to come out of the PwC InsurTech study is that insurers have now recognized the distinction between InsurTech disruptors and InsurTech innovators, and 88% plan to partner with the innovators to amp up their customer-pleasing power. As an example, a Top-Five insurer based on group rankings improved the bundling experience for their customers, by partnering with a leading InsurTech on digital distribution. The insurer united product silos and automated much of the quote-to-issue life cycle to achieve a host of benefits, including:
Providing quotes on multiple products for the consumer to choose

Rapid binding and issuance of select products in one seamless transaction
Reduced data entry for a fast and efficient quoting experience and increased operational efficiency
Before the digital enhancements that turned bundling into a simplified joy, they were only able to provide 30% of consumers with an offer. After upgrading to a top-tier bundling experience, they were able to provide 95% of consumers with an offer, doubled the number of quotes provided in a single year and converted 35% of those quotes to sales through agency channels. Digital channels performed even better with up to 53% of quotes turning into sales.[ix] When you consider that the average sales conversion rate for an e-commerce site is around 4%,[x] that's a pretty impressive feat.
To learn more about product bundling in a single seamless transaction, download our thought leadership piece,
---
[i] "Insurance's New Normal: Driving Innovation with InsurTech." PwC Global InsurTech Report 2017. PwC, 2017. Web.
[ii] Tanguy Catlin, Johannes-Tobiaz Lorenz, Christopher Morrison. "Insurers' digital Reality—Fewer Premiums, More Competition." McKinsey & Company, May 2017. Web.
[iii] "Redrawing the lines: FinTech's growing influence on Financial Services." PwC, 2017. Web.
[iv] Caterina Pontoriero. "Here Are the Top 10 P&C Groups in 2016, As Ranked by NAIC." Property Casualty 360. ALM Media, Inc., Mar 16, 2017. Web.
[v] Whelan, David, and Sean O'Neill. Customer Loyalty in P&C Insurance: US Edition 2014. Rep. Bain & Company, 2014. Web. 3 Apr. 2016.
[vi] Whelan, David, and Sean O'Neill. Customer Loyalty in P&C Insurance: US Edition 2014. Rep. Bain & Company, 2014. Web. 3 Apr. 2016.
[vii] "Amazon Accounts for 43% of US Online Retail Sales." BI Intelligence, Feb. 3, 2017. Web.
[viii] Tom Shapiro. "Web Site Conversion: Art and Neuroscience." CMO. Adobe Systems Incorporated, November 21, 2014. Web.
[ix] Noa Shavit. "Progressive Dominates the American Auto Insurance Market." Jumpshot Tech Blog, Sept. 13, 2016. Web.
[x] Dave Chaffey. "E-commerce Conversion Rates." Smart Insights, Mar 2, 2017. Web.