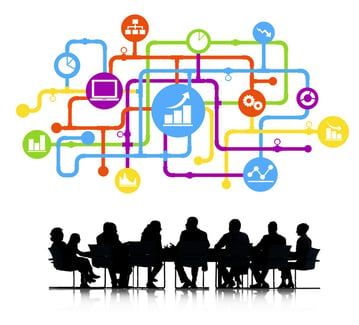 The small- and mid-size commercial market accounts for 95% of all businesses,[i] representing a lucrative field for many insurers. Currently, very few commercial lines carriers are investing in digital proficiency to serve this segment, focusing predominantly on agent channels, but there are strong signals that commercial carriers need to step up to digital engagement.
According to recent surveys, B2B customers use an average of six different interaction channels to research a product or service and engage with an organization before ultimately making a purchase,[ii] and as many as 30% of small- and medium-sized businesses would like digital options for purchasing insurance.[iii] In fact, 1 in 5 already start their purchasing journey online,[iv] often through an aggregator, robbing insurers of a portion of the profits. It's a call to action for commercial carriers to better meet the needs of their customers through digital distribution but also to realize the cost reductions and revenue gains associated with improved performance and greater product selection.
Reaching the Digital Ideal
A solid digital distribution platform imbued with the right attributes unites agents and underwriters in a more effective operation, giving commercial lines carriers the digital tools they need to reduce costs and improve revenues:
Streamlines application and underwriting processes: Agents reduce time spent on the application process with automated prefill capabilities that use third-party data to complete fields. Underwriters rely heavily on verified data from outside sources, so automating this step of the process saves them time as well, ensuring that the right information is captured up front and that all data is accurate.
In addition, with information united in a central data repository, agents and underwriters overcome the time and effort it takes to peruse multiple core systems. A single console affords quick and easy access to a complete set of information as well as visibility across all processes associated with quoting, binding, and issuance regardless of the channel.
Opens the digital door: Leading digital distribution platforms give commercial carriers the option of offering policy lines direct, something that is particularly attractive to small- and medium-sized businesses. Simultaneously, the system also supports agents and underwriters, enabling a range of engagement possibilities that allow customers to interact with insurers through the channel of their choice.
Meets more of the needs of business customers: Insurers can benefit greatly by expanding the products they carry, but developing commercial products is costly and time consuming. A universal market network, offered as part of a digital distribution platform, gives carriers access to a wide range of products applicable to businesses of varying sizes, such as BOP, general liability, cyber liability, and errors and omissions. By combining other network market offerings with their own, commercial carriers fulfill more of their customer's needs, expanding premiums and revenues without taking on additional risk.
A digital distribution platform with the right capabilities unites disparate core systems behind a unified console and automates information gathering to save agents time and ensure that underwriters have the quality information necessary to issue policies with less manual effort. Additional benefits come from digital engagement channels and a vast product selection, enabling commercial carriers to meet the needs and preferences of their business customers, far more often and with greater efficiency.
Digital distribution is the way of the future for commercial carriers. To learn more about developing a digital strategy that works for your commercial lines business today, download our thought leadership piece,
, and see how personal-lines carriers are developing digital strategies.
---
[i] ISO. News. The Big Business of Small Companies. ISO.org. ISO, 04 Mar. 2015. Web.
[ii] Lingqvist, Oskar, Candace Lun Plotkin, and Jennifer Stanley. "Do You Really Understand How Your Business Customers Buy?" McKinsey & Company. McKinsey & Company, Feb. 2015. Web. 10 Oct. 2016. <http://www.mckinsey.com/business-functions/marketing-and-sales/our-insights/do-you-really-understand-how-your-business-customers-buy>.
[iii] Hoying, Tim, James Platt, Michael Bongartz, and Yasushi Sasaki. "Improve P&C Profitability and Premium Growth: Six Steps." BCG Perspectives. Boston Consulting Group, 09 Jan. 2014. Web.
[iv] Voice of the Small-business Insurance Consumer: Are Buyers Ready to Take the Direct Sales Route? Rep. Deloitte Center for Financial Services, 2015. Web.