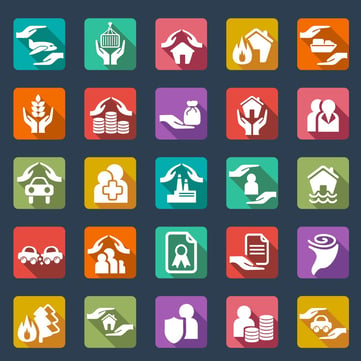 In a recent carrier survey by Bain & Company, 70% of respondents indicated that they would be willing to purchase related products, such as home security monitoring, from their insurer.[i] For P&C carriers, this should be one of those take-notice moments. Insurers that provide more than one insurance product to a customer already realize an 85% or greater share of wallet.[ii] Imagine the revenue-churning power of delivering a suite of renewable products, each geared to the unique needs of your customer. For insurers, becoming a P&C solution provider could open the door to endless possibilities, as long as they are positioned to capitalize on the trend.
Covering the Basics
According to the Bain report, successful insurers of the future will be more present in the lives of their customers and stand at the ready to provide a full suite of product offerings to fulfill all of their customer's insurance needs - 360. But in order to become a full-service solution provider, insurers need to be up to speed in some critical areas:
Deal with digital: Customers want to interact with insurers through a variety of channels, but nearly 80% say they want the ability to purchase coverage online.

[iii]

Comprehensive digital capabilities will be necessary to allow customers to purchase solutions through the channel of their choice and for marketing to reach customers about related offerings to mitigate additional areas of risk.
Know your customer: Selling more than one product to a customer has benefits beyond expanding wallet share as customers are less likely to switch carriers when they have multiple products with an insurer.

[iv]

But determining which products a customer needs, when they need them, particularly when selling related services, such as anti-theft protection, requires advanced, real-time analytics to target marketing efforts and guide cross-sell opportunities.
Universal market network: Developing new insurance products is challenging, time consuming and costly. The idea of trying to get additional services developed, tested and approved by regulators may seem like too much of a headache to take on, but what if a carrier could offer all of the products and services a customer needs, such as auto, pet, event insurance, and theft protection, without assuming the development hassles for all of the products and services? A universal market network allows insurers to bundle their insurance offerings with those from another carrier, without taking on additional risk. This network easily supports the addition of the related services that an insurer needs to deliver complete solutions, allowing them to gain and retain more customers while also substantially raising revenues.
Ready Right Now
Delivering a complex suite of products will require comprehensive capabilities that extend far beyond some insurers' current capacities. A bolt-on digital distribution platform brings carriers up to speed quickly, and when imbued with the right functionalities, sets them up for a future of success. Insurers should look for leading-edge attributes such as:
A single console that unifies traditional and modern channels and seamlessly connects to core systems limiting the need to reenter data into back-end systems
Smart applications with pre-fill capabilities to minimize the consumer's time and effort
Auto quoting, underwriting and on-line payment capabilities
Central data repository that keeps customer information secure and easily accessible
Built-in analytics that offer real-time insights, alerting customers and agents to products and services that may be of benefit
Universal market network of P&C insurance products that carriers can leverage to bundle their products with those from other carriers without taking on additional risk
The right digital distribution platform delivers greater acquisition and retention rates, as well as higher revenues and premiums, while ensuring future success in a changing market.
To position your company as a comprehensive provider of P&C insurance solutions, download our thought leadership piece,
, to understand the power behind the right digital distribution platform.
---
[i] "A Wake-Up Call for Insurers: More Customers Value Insurance Services Beyond Just Basic Coverage." www.bain.com. Bain & Company, 19 Sept. 2016. Web. <http://www.bain.com/about/press/press-releases/a-wake-up-call-for-insurers.aspx>.
[ii] Whelan, David, and Sean O'Neill. Customer Loyalty in P&C Insurance: US Edition 2014. Rep. Bain & Company, 2014. Web. 3 Apr. 2016.
[iii] J.D. Power. Large U.S. Auto Insurers Drag Industrywide Customer Satisfaction Down Due to Price Perception, Says J.D. Power.J.D.power.com. J.D. Power, 20 June 2016. Web.
[iv] "A Wake-Up Call for Insurers: More Customers Value Insurance Services Beyond Just Basic Coverage." www.bain.com. Bain & Company, 19 Sept. 2016. Web. <http://www.bain.com/about/press/press-releases/a-wake-up-call-for-insurers.aspx>.