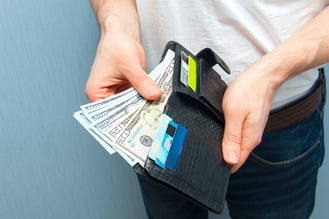 Consumers are changing not only the way they purchase insurance, but the products they buy. Facing previously unheard of risks, such as threats from cyber-attacks and identity theft, as well as an emerging connected and autonomous world, consumers are seeking new types of coverage. In a recent study, Bain found that 70% of consumers even want to purchase related services from their insurer, such as home security monitoring.[i]
For savvy insurers, the trend opens a world of waiting opportunity. According to Bain, insurers that provide more than one product to a consumer realize up to a 90% greater share of wallet,[ii] resulting in expanded customer loyalty and longevity. In our experience, they sell 1.4 more products as well. The challenge for insurers moving forward is overcoming the high cost and lengthy cycles associated with new product development to capitalize on the market opportunity.
Overcoming the High Cost and Wait of New Product Development
Growing market share by fulfilling consumer demand for new products or services is a lengthy development cycle that starts with market research, ideation, pricing, and defining a target audience with an appetite for the offerings. The steps from product conceptualization to end-phase marketing require more market research, as well as innovative and experienced talent to create a final product.
Insurers face challenges at multiple points along the journey, making it difficult to get a new product to market before demand changes or is met by others. The majority also fail to provide the digital channels necessary to ensure that new products reach the customers they are intended to protect and in a way they want to purchase them. With nearly 80% of consumers wanting to buy coverage online, the ability to realize strong outcomes from new product development efforts is seriously hampered if the insurer lacks the digital sophistication consumers expect.
For this reason, leading insurers are teaming up with a digital distribution platform provider. The right platform delivers high-end digital capabilities that integrate with traditional channels, offering a rapid evolution of the insurers' digital brand, while opening doors to new products without the risk, costs or time-delays associated with conventional product R&D.
Increasing Wallet Share and Revenue Growth
A digital distribution platform with a tightly integrated market network of offerings gives insurers greater flexibility to try new markets without underwriting additional risk. Say for instance, an insurer's internal research shows that current consumer demand for usage-based (UBI) products could warrant the development of a UBI line of coverage. Instead of spending thousands on further market research and development costs, insurers can offer the product from another carrier. The insurer owns the customer and the renewal, allowing them to see how the product performs with their target audience, but they don't own the underwriting risk of the coverage. Instead, they grow revenue and customer wallet share.
A digital distribution platform powered with a robust market network gives insurers an edge, allowing them to focus on their core products while still meeting the majority of their customer's needs. The platform connects seamlessly with existing technology to offer leading capabilities:
Bundled solutions: Through the platform, insurers receive real-time alerts on coverage gaps that can then be filled with products from the platform's market network. Insurers realize premium growth of 14% and expand wallet share up to 90% by bundling their products with those from other insurers. The process, from quote to issue, takes place in a single transaction and insurers deliver the coverage their customers need without underwriting additional risk.
Omni-channel excellence: Meeting the needs of nearly three-quarters of the insurance buying public means that insurers need to engage digitally. The right digital distribution platform seamlessly connects customers to insurers and delivers a seamless buying experience through consumers' channel of choice.
Operational efficiency: As insurers tackle new products, growth can be augmented through cost efficiencies. Automation speeds the application-to-issue lifecycle, improving operational effectiveness and reducing costs. The platform also consolidates customer data behind a single console, making agent and underwriters more productive by giving them one streamlined view of the customer from start to finish.
Dashboards and reporting: Feedback and metrics are critical when entering new markets and trying new products. The right digital distribution platform provides both templated and custom reports providing the insights necessary to make decisions related to new product viability.
A leading auto insurer grew its market share 7.3%, by turning to digital distribution and expanding their product offerings.[iii] To realize the same results, learn more about ramping up your product selection through digital distribution by downloading our thought leadership piece,
---
[i] "A Wake-up Call for Insurers: More Customers Value Insurance Services Beyond Just Basic Coverage." Bain & Company, 19 Sept. 2016. Web.
[ii] Whelan, David, and Sean O'Neill. Customer Loyalty in P&C Insurance: US Edition 2014. Rep. Bain & Company, 2014. Web. 3 Apr. 2016.
[iii] "Examining Progressive's Competitive Position." The Rational Walk, 29 March 2016. Web.