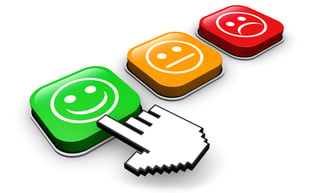 Anne is shopping for P&C insurance. She's frustrated with her current carrier and looking for an insurer who better understands how she likes to shop and meets her needs for fast, efficient purchasing. If you wanted to secure Anne's business, what would you do?
Just What Do Consumers Want, Anyway?
This is a question too many insurers can't seem to answer and customers like Anne are sending a message with a click of their finger. According to ACSI, customer satisfaction with the P&C insurance industry fell 1.3% last year and garners only 78 points out of 100 from disgruntled consumers.[i] In case you're a little rusty on grade point averages, that's a C, and a long way from the A+ required to attract and retain consumers in today's competitive, customer-centric age.
So, what is it that consumers are looking for when shopping for an insurer? According to McKinsey & Company, here are the basics: an always open, one-stop shop, offering quick delivery of quotes and services; easily digestible information about products; and innovative digital services geared to meet their needs and expectations.[ii]
McKinsey's view is backed up by some convincing data, including the fact that 58% of consumers prefer to purchase coverage online[iii] and 80% use a digital channel at least once in the buying experience.[iv] In addition, nearly 80% of consumers want to bundle coverage.[v] When you put it all together, it's a gripping proposition: fast, efficient quoting of multiple coverage types in a single, seamless transaction.
Why Anne is Unhappy
Like so many others, Anne wants to bundle her coverage. Bundling usually comes with discounts that put a smile on Anne's face. What isn't making her happy is the runaround she gets from insurers when she tries to quote the coverage. Even with top ten insurers, her experience has been less than optimal.
First, she tried to quote the coverage online. Initially, things seem to be going well. She enters some basic information for an auto quote and is asked if she would like to bundle this with her homeowners coverage. Feeling optimistic, she clicks yes and continues with the application.
At the end of the process, she is given a compelling auto quote, but instead of receiving pricing for her home coverage, she is asked to submit another application through a different site. The other site takes her down a similar application path, but then asks her to call an agent to receive pricing on her homeowners policy. Frustrated, she shuts the computer down, and decides to call the insurer directly.
The agent is enthusiastic and helpful, ensuring her that he can meet her needs, but the process is lengthy, and after finally receiving a quote for her auto policy, she has to wait while she's transferred to a different agent to receive a quote on her homeowners coverage. Here, the process starts all over again as she provides much of the same information to the new agent before getting pricing.
What she doesn't realize is that the capabilities of the agents taking her calls are no more advanced than the direct-to-consumer options she's abandoned in frustration in the first place. The agents must also complete separate applications to quote coverage, entering and re-entering her information into multiple back-office systems to provide her with pricing.
Creating Customer Utopia
As customers bundle, they give an 85%-90% greater share of wallet to a single insurer,[vi] so they're looking for more value. They want modern engagement options and simplified transactions.
In addition, customers who buy more also stay longer, generating benefits from loyalty and longevity,[vii] but in today's customer-centric environment, streamlining the bundling experience to a single transaction is essential to reaping the rewards. Let's look at how Anne's experience should have gone:
Whether connecting with the insurer via digital channels or through an agent, Anne should be offered the option to bundle her coverage—a gold star to the insurer she contacted for getting this part right.
Next, leading-edge capabilities pull information from third-party sources, auto-filling much of her application and drawing information that alerts her or her agent to coverage gaps, even offering her the option to add additional coverage.
Once she has entered the required information, and opted to also add the offered coverage for her husband's boat to the auto and home policies, she is rewarded with multiple auto quotes.
After comparing auto coverage pricing and selecting a highly-competitive option, the process repeats, seamlessly delivering competitive offers on her homeowners and boat policies.
In a matter of minutes Anne has entered her information, reviewed multiple options and selected the coverage she wants in one simple transaction. All that's left to do is seal the deal, which she or her agent does with the click of a mouse, automatically binding and issuing her policies in seconds. Anne is happy to have found not only the products she wants in a simple seamless transaction, without filing out multiple applications or speaking to multiple agents, but also the price points she wanted to meet.
The beauty of Anne's experience is that it's available today, through leading insurers. You'll find them easy to recognize. They're the ones improving customer retention by 12%, generating a 24% revenue increase in 5 years and seizing 5% greater market share.
To learn more about the power of top-tier digital capabilities in product bundling, download our infographic,
---
[i] "ACSI Finance & Insurance Report 2016. ACSI LLC, Nov. 15, 2016. Web.
[ii] Catlin, Tanguy, Johannes-Tobias Lorenz, Christopher Morrison and Holger Wilms. "Time for Insurance Companies to Face Digital Reality." McKinsey & Company, March 2017. Web.
[iii] Erik Sandquist. "The Increasingly Digital Insurance Customer." Efma, Feb. 20, 2017. Web.
[iv]Catlin, Tanguy; Ewan Duncan; Harald Fanderl and Johannes-Tobias Lorenz. "The Growth Engine: Superior Customer Experience in Insurance." McKinsey, April 2016. Web.
[v] J.D. Power. Gen Y Consumers More Likely to Split Their Policies across Multiple Insurers than Any Other Generation. J.D. Power, 17 Sept. 2015. Web.
[vi] Whelan, David, and Sean O'Neill. Customer Loyalty in P&C Insurance: US Edition 2014. Rep. Bain & Company, 2014. Web. 3 Apr. 2016.
[vii] Customer Behavior and Loyalty in Insurance: Global Edition 2016. Rep. Bain and Company, 2016.