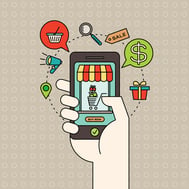 The Amazon-inspired retail industry has shaped a new set of customer expectations, forcing a revolution across multiple industries, including P&C insurance. As insurers move toward a more customer-centered ideal, they are coming to grips, no matter how cautiously, with the inevitability of digital distribution, but can the P&C insurance industry ever evolve to own the product-packed, customer-pleasing power of retail leaders such as Amazon? The answer is yes, especially for market-leading carriers with the right digital distribution platform.
What Makes Amazon So Special?
Amazon began its journey in 1995, selling books from founder, Jeff Bezos' garage in Bellevue, Washington. Now, with $107 billion in sales last year,1 it isn't hard to understand where deep digital superiority, a vast product selection and an understanding of complex shopper behavior has taken them.
Mastery of digital channels and analytics has enabled Amazon to rise to the top of the retail ecosystem by delivering an always open, one-stop shop. Real-time product recommendations help shoppers make the right selections, and when Amazon can't supply a product or offer it at a cost the customer is willing to pay, they tap into their vast market network, extending their reach by augmenting merchandise selections with products from other suppliers. Amazon's platform, with its rich market network, is the customer loyalty check that ensures consumers return again and again to take advantage of the unlimited product selection, easy shopping experience, and lightning fast purchasing process.
It's a lesson in customer engagement that insurers can easily take to the bank.
What Insurers Can Learn from the Amazon Experience
Amazon's customer focus has put them at the top of the retail food chain, shaping customer expectations and forcing other industries to rise to the challenge. This puts insurers in a challenging position where they must shift from their historically productized model to one founded on meeting more of the needs of each and every consumer that crosses their doorstep, whether that portal exists in the physical or digital world.
In creating a distribution strategy that works in the modern era, there are three main things insurers can learn from Amazon's example.
The always-open, one-stop shop—The P&C insurance industry is viewed as a laggard in the digital revolution. Catching up means adopting a distribution platform that merges the advantages of new digital channels with the traditional one's customers still desire, such as agent or call center support.
The power in analytics—Amazon collects and analyzes the shopping patterns of each and every consumer that enters their site. This information is then employed to improve the shopping experience, suggesting alternative products that may more accurately fit a customer's needs and prompting future communications that encourage engagement. In many ways, insurers are positioned to make even better use of analytics. The wealth of information gained through even early stage customer interactions is prime for analytics insights, allowing insurers to identify coverage gaps and become a larger-than-Amazon style hero by recommending products that could actually reduce customer risk and further protect customers' valuable assets.
The advantages of a market network—Jeff Bezos understood this about customers: They like the convenience of getting everything they need in one place. Consumers are no different when shopping for insurance as 78% indicate that they prefer to consolidate their coverage with a single carrier.2 This is where the Amazon story is most inspiring for insurers, encouraging them to take a big leap forward by joining a market network to achieve the same Amazon-like product selection.
Through the right digital distribution platform, many leading carriers are realizing the economic sense of bundling their products with those from other carriers. It enables them to meet more of the needs of each and every customer without taking on unnecessary risk, but more importantly sets them up to realize an 85% greater share of wallet,3 as well as higher acquisition rates produced through the 4 to 5 new referrals generated from every bundled solution sold.
Insurers CAN Become the Next Amazon.com
By adopting the right digital distribution platform, insurers gain native tools to propel them on their Amazon-style journey. Platforms that easily append to carrier systems and merge traditional channels with digital capabilities rapidly bring carriers up to modern standards and position them for future success. Inborn analytics spawn the type of insights that encourage engagement by recommending real-time coverage options, while a vast market network allows insurers to bundle their products with those from other carriers to meet more of their customer's needs without taking on unnecessary risk. Looking at Amazon's success may be enough to encourage an insurer to cross the chasm, but even more compelling are the 14% increase in net premiums and revenue boost of 24% over 5 years experienced by insurers that have taken advantage of a digital distribution platform with built-in analytics and market network offerings.
To learn more about becoming the Amazon.com of insurance, download our thought leadership piece,
---
1. Amazon.com. Amazon.Com Announces Fourth Quarter Sales Up 22% to $35.7 Billion. www.amazon.com. Amazon.com, 28 Dec. 2016. Web.
2. J.D. Power. 2015 U.S. Household Insurance Study. www.jdpower.com. J.D. Power, 17 Sept. 2015. Web.
3. Whelan, David, and Sean O'Neill. Customer Loyalty in P&C Insurance: US Edition 2014. Rep. Bain & Company, 2014. Web. 3 Apr. 2016.