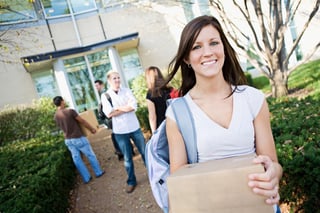 As fall approaches, thoughts turn toward cooler temperatures, shorter days and of course, back to school preparations. For parents of college-aged students or those attending boarding schools, this elicits not only bittersweet emotions, but also thoughts on insurance coverage as students assume residence in school dormitories or off-campus housing.
Homeowners Policies May Not Cover it All
While some parents will find that their homeowners policy offers adequate protection for students living away from home, many will be looking to augment existing coverage with new products designed to protect the widely evolving array of assets and experiences of today's student. This offers insurers the opportunity to engage current customers and acquire new by providing a wide array of products:
Renters coverage—Most homeowners policies only extend coverage to students living in on-campus housing, leaving off-site students vulnerable without a separate renter's policy.
Auto insurance—Some parents will find it more advantageous to take out a separate auto policy for students bringing a car to school. Given that price will likely be the primary factor in making this decision, carriers stand to lose existing customers if they can't offer the coverage a student needs at a price that parents are willing to pay.
Gadget insurance—Today's students take more than binders and notebooks to school. They take an extensive array of gadgets, including computers, phones, cameras and even drones. Given that some homeowner's policies limit coverage on off-premises belongings, parents could be seeking separate gadget insurance to ensure adequate coverage for their children's belongings.
Identity restoration insurance—Students enter college with a blank credit slate, making them particularly desirable targets for identity scammers. Add to that the plethora of at-risk behaviors in which college students engage, including on-line purchasing, carelessness with pins and passwords and failing to shred the numerous credit card offers they receive, and college students are prime candidates for identity theft and restoration insurance.
Meeting the Insurance Needs of More Parents with College Students
The U.S. Department of Education reported that more than 2,000 fires occurred in on-campus housing units in 2014 (the most recent year that information is available).[i] Statistics like this highlight just one of the reasons why parents will be seeking additional insurance coverage this fall. Insurers who take part in a market network powered by a sophisticated digital distribution platform are well positioned to meet more of their customer's needs more of the time, by bundling their products with those they don't underwrite. They deliver superior protection to parents without taking on additional risk and realize increased net premiums in the process.
To see how insurers are benefitting from this arrangement, including a 24% increase in revenue over 5 years, download our infographic,
---
[i] "Campus Safety and Security." Campus Safety and Security. U.S. Department of Education, n.d. Web. 29 Aug. 2016.