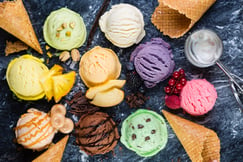 Captive agents are calling on carriers to deliver stronger digital capacity and greater product choice as their share of premiums continues to decline.[i] Lacking the products and tools they need to compete with digitally-superior insurers, it's a tough go for many captives in today's market, but it could be a lot easier with the right capabilities and offerings.
Making the Case for Digitally-Enabled Product Choice
Perhaps, we can best describe the state of the market for captive agents with a little story. Anne is a typical insurance customer. Angela and Marv are both captive insurance agents.
Anne has worked with Angela for more than ten years, so when her family buys a boat, Angela is the first one Anne calls to secure coverage. In Anne's mind, adding the boat to her existing home and auto coverage before her husband picks it up after work is a simple request. For Angela, it's a major dilemma.
Angela's carrier doesn't offer coverage for recreational vehicles. If Anne should decide to bundle her home and auto with the agent who ultimately provides the policy for her boat, Angela will lose Anne's business.
Bundling is exactly what's on Anne's mind as she phones Marv. She, like many other customers, wants to consolidate her coverage with a single insurer, but when it takes Marv thirty minutes to collect all of the data he needs to run the home, auto and boat quotes, she's a little disgruntled. Her frustration grows when he requires a couple of hours to call her back with pricing, and it peaks when he reaches her at the end of the day, only to respond with auto premiums that are far higher than what she is currently paying.
With her husband ready to leave work to pick up the boat, her options are few. Resigned, she opts to take the boat policy from Marv and leave her home and auto with Angela.
In the end, she has secured the coverage she needs, but no one is really happy. Anne wanted to work with a single agent. Instead, she has spent the better part of a day researching coverage only to settle on a suboptimal scenario.
On the other hand, Angela and Marv have both lost lucrative deals because of a lack of product selection or the inability to quickly quote policies.
What Anne Doesn't Know
Anne may be in the dark as to why the agents she contacted couldn't meet her needs, but captives know the story all too well. Product silos make the easy and convenient purchasing experience Anne was expecting an impossibility, as agents manually enter reams of data into separate back-office systems to quote products. Nearly 30% of agents view the time it takes to access or handle customer data as a major constraint to growing their business.[ii]
---
---
When it comes to product offerings, the view is more dismal. With consumers wanting to consolidate their coverage with a single carrier, more than half of agents say they need access to additional products.[iii] Anne's case was fairly straight forward, but consumers are increasingly demanding more innovative offerings that meet their changing requirements and preferences.
Carriers, facing new product development cycles of up to a year,[iv] aren't finding it a stroll in the park to create the offerings their captive agent force needs, and even when they do it is often too late and other insurers have captured their share of the market.
So, what's the answer? Well, PwC has a thought.
Cloud-based Digital Distribution Does It All
According to PwC, the answer lies in the cloud.[v] SaaS-based digital distribution platforms simply and easily overcome the challenges of aging infrastructure and support consumers' expectations for always available access as well as agent needs for contemporary products. Let's take a closer look:
Expanded products: PwC highlights the agent's need to respond quickly to changing market dynamics by offering the latest in products as well as more traditional fare according to the customer's needs.

[vi]

A digital distribution platform offering a tightly integrated market network places a vast selection of products within an agent's reach, allowing them to bundle other carrier's offerings with their own, without underwriting the risk.
Transformation without the upheaval: The right digital distribution platform appends seamlessly to existing technology, uniting product silos and consolidating customer data behind a central access point, allowing agents to quote, bind and issue multiple products in a single transaction.
Straight through processing: A digital distribution platform adds automation to the power punch carriers can provide agents, auto-filling applications to drastically reduce manual entry and providing them the ability to rapidly quote, bind and issue policies at the click of a mouse.
With the right digital distribution platform, Anne's trusted agent Angela could have provided multiple options for boat coverage by leveraging the tightly integrated market network of products and kept all of the business in-house. Alternatively, when Anne spoke with Marv, he could have gathered the information necessary to present multiple quote options for auto, boat and home in mere minutes and secured a new customer. It's the type of experience that parallels the rapid efficiency of online retail transactions and is where the P&C market is heading. Carriers who fail to empower their captive agents with the digital tools and product selection they need to reach competitive market positioning will lose business to more digitally adept carriers, including the chance to recognize $70 million in premiums in as little as ten months while selling 1.6 more of their own products. To learn more about the digital tools and product selection agents need to succeed, download our thought leadership piece,
---
[i] "2017 Market Share Report (Based On 2015 Direct Written Premium Data Sourced From A.M. Best-All Analysis Done By IIABA)." Indpendent Insurance Agents & Brokers of America, Inc., 2017. Web.
[iii] "The Agent of the Future." EY, 2017. Web.
[iv] "The Agent of the Future." EY, 2017. Web.
[v] "Top Issues an Annual Report." Volume 9. PwC, 2017. Web.
[vi] "Top Issues an Annual Report." Volume 9. PwC, 2017. Web.