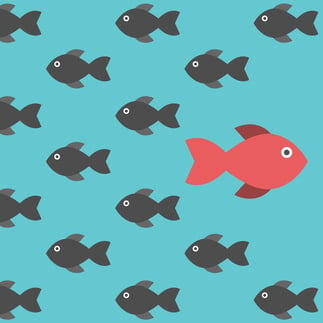 Increasingly, consumers view P&C insurance products as a commodity and insurers have had to respond in kind. Focused on providing a limited line of offerings that meet the needs of most consumers, price becomes the primary differentiating factor between one carrier and another. In the quest to gain new business, insurers have been drawn into the price war instead of calling on the strength of their products and service to garner new customers and establish loyalty.
To break the commoditized customer mindset, insurers need to focus on product differentiation—creating dynamic selling points for current products and gaining access to additional products that meet a wider range of consumer needs.
Differentiating Your Current Product Line
Considering the wealth of information that is gained in even early stage insurance processes, insurers should be at the top of the food chain when it comes to understanding and meeting consumer preferences. Realizing the tremendous power in strong analytics, many insurers are adopting these capabilities and realizing insights that allow them to more personally identify the needs, habits and preferences of members of their target audience and then matching them to product attributes.
For example, through the use of analytics, Company A identifies a vast number of consumers who not only own a centrally monitored home protection system, but use it without fail. Offering discounts to this demographic, could easily result in greater acquisition and retention rates because the insurer is fulfilling the individual needs of a core group of consumers. In essence, it's meeting the all important component of price while also personalizing coverage for the individual.
Pay-per-use is another example of how insurers are meeting consumer demands for more personalized coverage, offering to calculate insurance premiums based on actual miles driven. Looking at leading customer experiences in other industries, the ability to personalize insurance products to this degree is essential if insurers are going to change the commoditized stigma they now carry, but what about expanding to connect with more consumers and take on greater market share by offering more products?
Changing Consumers Expect Insurers to Fulfill a Broad Range of Needs
Consumer needs are changing. Take a look at offerings from some recent new entrants and you'll see how rapidly evolving consumer lifestyles, perceptions and even political viewpoints are influencing the development of a more personalize insurance product and putting pressure on existing insurers to do the same. From coverage for relationship breakups, reputational threats and stalkers at work to the more mundane offerings covering the essential tech gadgets we all love, insurance products are evolving. On the commercial front, one company is even offering coverage aimed at certain manufacturers committed to the green cause.
As customers learn about new coverage options, the demand for new products will increase. Considering the regulatory and cost hurdles associated with bringing new products to life, established insurers are facing a complicated future where the static nature of their product lines jeopardizes acquisition and retention.
Consider also that nearly 80% of consumers want to consolidate their coverage with a single carrier.[i] If an insurer can't meet the full range of a consumer's needs, they are likely to keep moving down the line until they find one that does, particularly as new entrants come into the market focused on providing this level of product differentiation and customer experience.
Forward-thinking insurers are ramping up now to meet the demand for expanded product choice. Some are establishing their own think-tank startups designed to overcome internal innovation hurdles while others are watching the insuretech movement, carefully gauging consumer response in order to have a head start on the next new wave of products or services. Some insurers are already there, able to meet each of their consumer's expanding demands by taking advantage of a vast market network.
Market networks allow insurers to join forces, bundling products from other carriers with those found in their own product lines to customize coverage for each customer. For example, through a market network, insurers can easily meet the needs of the nearly 80 million households owning pets by providing coverage for the traveling pet through an auto policy, and also fulfilling the customer's need for pet insurance.[ii]
Results to date have been dramatic. Insurers sell 1.4 more of their own products for every bundled product sold and gain 4 to 5 new referrals. If bottom line results are more your style, how about realizing a 14% gain in net premiums and a revenue growth of 24% over 5 years?
Meeting More of the Needs of Your Consumers
As the consumer environment continues to evolve, insurance customers are going to expect higher levels of service, including offerings designed to meet their personal lifestyle needs. Personalizing existing products to the mandates of more consumers is one way of making offerings more attractive, but due to the productized nature of most insurers' lines, they will still turn customers away. In order to gain market share and improve acquisition rates, carriers will need access to an expanded product line. By joining a market network, insurers can improve product selection. Bundling their own products with those of other carriers allows them to meet more of the needs of their customers, more of the time, without taking on added risk.
To learn more about the advantages of a market network, download our infographic,
---
[i] J.D. Power. Gen Y Consumers More Likely to Split Their Policies across Multiple Insurers than Any Other Generation. J.D. Power, 17 Sept. 2015. Web.
[ii] "Pet Industry Market Size & Ownership Statistics."Http://www.americanpetproducts.org/press_industrytrends.asp. American Pet Products Association, n.d. Web.