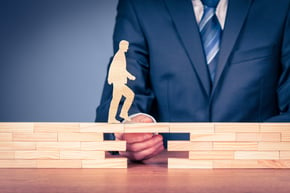 The ultimate goal for any regional P&C insurer is to improve business outcomes, but that can often be a difficult task in today's market. According to a recent study conducted by EY, the demand for new products, including the ability to provide novel offerings such as on-demand coverage, is disrupting the traditional insurance landscape.[i]
In today's market, consumers want customized insurance offerings with affordable premiums, and they are willing to shop around to get it. They also want to purchase coverage through digital channels and to be able to engage with their insurer in the same way.
On a similar note, insurers want to service the needs of their customers as best as possible, but face high-cost technology upgrades and challenges in gaining access to the new products necessary to meet the wide range of customer needs. The answer for regional insurers, has been to adopt a digital distribution platform with a robust market network.
Consumers Want Options – Lots of Them
Imagine this; a regional insurer has several products and has been highly successful over the years, but has recently noticed that acquisition and retention rates are at a standstill or falling. After doing some internal digging and running many reports, the insurer learns that consumers want options they can't provide.
According to a recent survey released by Morgan Stanley Research, most consumers want to use a combination of engagement channels; call centers, the internet, email, mobile, and in-person, all depending on the reason for the interaction.[ii] But when it comes to researching and purchasing insurance, 87% want to use digital channels.[iii]
Consumers are also demanding innovative products, such as pet insurance and pay as you drive coverage. All too often customers defect from their current insurer for another capable of providing the products they need at a price they are willing to pay.
So how do insurers keep up with the fast-paced market of 2017? By investing in a digital distribution platform with access to a robust market network of products.
All Reward, With Very Little Risk
A digital distribution platform offering a comprehensive market network gives regional insurers the ability to expand product offerings without seeking additional carrier appointments or needing to commit to an annual amount of premiums sold. Through the platform, the insurer selects the additional products they need to meet more of their customer's requirements, including critical price points, while stepping into a distribution strategy that enables digital engagement.
Once they've expanded their market reach with additional products, insurers gain added efficiency by leveraging the digital platform's automation capabilities. The advantages include:
Rapid access: Products from the market network are made available through a single platform, without the need to configure access to multiple carriers.
Improved productivity: With an expansive number of products already integrated into the platform, agencies can bundle many of their current appointments with products from the market network to rapidly quote, bind and issue customers' coverage. All of this occurs without the need to rekey customer data into multiple systems. Insurers meet customer demands for fast efficient service while lowering operational costs.
Improved customer satisfaction: Insurers position themselves to meet more of their customers' needs more of the time in a single transaction, leading to a 12% increase in customer retention.
By stepping into a digital distribution platform, regional insurers gain digital mastery across a core group of products improving acquisition and retention rates while realizing greater operational efficiencies. In addition, they are now positioned to scale up to full digital prominence across a broader selection of products when the time is right.
By using a market network-powered by a digital distribution platform, insurers sell 1.4 more of their own products for every bundled solution sold. Customer loyalty escalates as well, resulting in 4 to 5 new referrals from each sale and a 12% increase in customer retention.
For more information on how insurers benefit from the right digital distribution platform, read our recent piece, Step Up to Digital Distribution Through Enhanced Product Offerings.
---
[i] EY. 2017 US Property-casualty Insurance Outlook. N.p.: Ernst & Young, 2016. PDF.
[ii] Gohil, Chai, Nigel Dally, and Brian Nowak. "North American Insight: Digital Disruption in Small Business Insurance." Ed. Kai Pan. North American Insight - Morgan Stanley Research 93.49 (2016): 41. Print.
[iii] Must Carriers Replace Core Systems to Become a Digital Leader? 2017. BOLT Solutions